College Basketball Odds 2015-2016: Kentucky, North Carolina, Duke, Kansas Among National Championship Favorites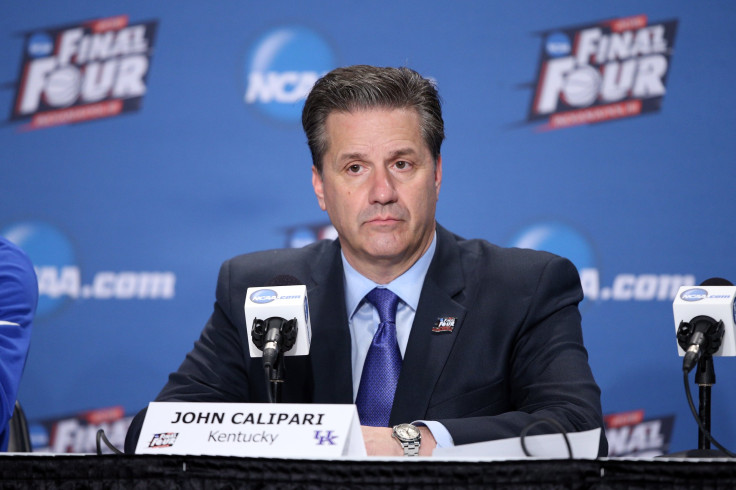 The highly talented but inexperienced Kentucky Wildcats fell just short of a perfect season in 2014-2015, losing to Wisconsin in the Final Four after winning 38 consecutive games. The Wildcats aren't expected to be as dominant in the upcoming college basketball season, but they remain the favorites to win the national championship.
John Calipari's squad has the best title odds in the country at +750. Many of the players change each season, but the Wildcats have been a perennial national championship contender since the 2010-2011 season, reaching the Final Four in four of the last five years. Kentucky last won a title when they were led by Anthony Davis in 2012, and they last reached the final when they lost to Connecticut two seasons ago.
Even though they have the best betting odds to win it all, Kentucky isn't the clear No.1 team in the country. North Carolina sits atop the AP Top 25 Poll with 35 of a potential 65 first-place votes. Both the Tar Heels and Wildcats are tied atop the USA Today Coaches Poll.
North Carolina is second with +900 odds. They came two wins shy of reaching last year's Final Four, where they would have faced Kentucky. The Tar Heels haven't reached the Final Four since the 2008-2009 season, when they won the title.
Duke won the national championship last year, and they are tied for having the third-best odds. The No.5-ranked Blue Devils lost their top four scorers from last season to the NBA Draft, including top-10 picks Jahlil Okafor and Justise Winslow, but have reloaded with one of the best recruiting classes in the nation.
Connecticut didn't even reach the NCAA Tournament last season, but only five teams have better championship odds. UConn, which won the national championship in 2014, enters the season ranked No. 20.
Tied with Duke at +1000 odds are Maryland and Kansas. Virginia has +1800 odds, and they received one vote to be ranked No.1 in the AP Top 25.
Below is a look at the teams with the best odds to win the national championship, courtesy of Bovada.lv.
Kentucky +750
North Carolina +900
Duke +1000
Maryland +1000
Kansas +1000
Virginia +1800
UConn +1800
California +2500
Villanova +2500
Wichita State +2500
Gonzaga +2500
Arizona +2500
Michigan State +2800
Michigan +3300
Iowa State +3300
Indiana +3300
Oklahoma +4000
Purdue +4000
© Copyright IBTimes 2023. All rights reserved.