College Football Schedule: TV Channels, Start Times For SEC, Big 10, Pac-12, ACC Championship Games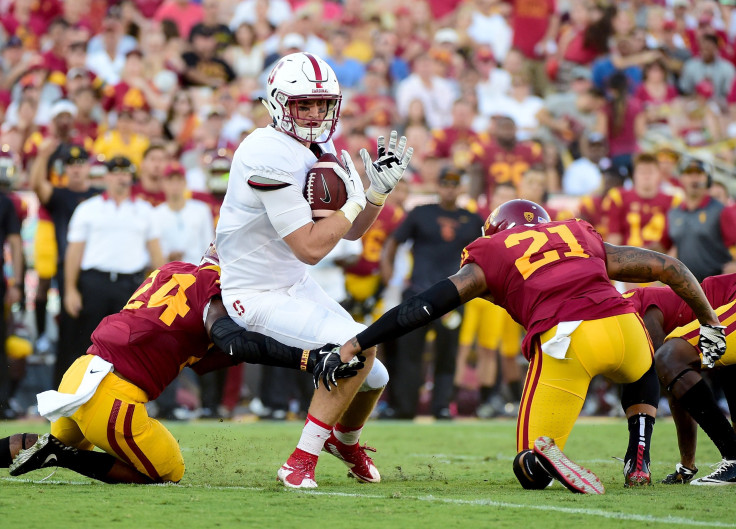 With just one weekend of games remaining before bowl season begins, four conference championship games will ultimately determine who will play in this year's College Football Playoff. Eighteen of the 25 teams in the AP Top 25 Poll have two losses or fewer, but only eight schools have a realistic chance of competing for the national championship.
Championship games for the SEC, Pac-12, Big Ten and ACC are all scheduled for Saturday. A conference title for most of the teams involved would give them a strong chance to qualify for the CFP, though a couple of teams have no real shot to contend for the national title, even if they win this weekend.
Unranked USC has four losses on the year and no chance of making the CFP. No.18 Florida would move up in the rankings if they beat Alabama, but they don't have enough marquee wins on their schedule to outweigh their two losses this season.
No.6 Ohio State missed their chance to play in the Big Ten Championship Game when they were defeated by Michigan State, but their national title hopes aren't dashed yet. Losses by Alabama and Clemson would give them a chance to find their way into the CFP.
Without having to play in an official Big 12 Championship Game, No.3 Oklahoma can rest easy this weekend with their spot in the CFP all but guaranteed. The Sooners ended the season with three straight wins against ranked opponents, including a 35-point drubbing of Oklahoma State in the de facto Big 12 title game.
Below is a look at Saturday's championship game schedule for the power conferences, including start times and TV channels.
No.18 Florida vs. No.2 Alabama, 4 p.m. ET, CBS (SEC Championship Game)
Alabama is the only team besides Clemson to get a No.1 vote in the AP Poll, and they still have a chance to finish the season ranked No.1 overall. The Crimson Tide have won nine straight games, and the Gators are just 1-2 against ranked opponents.
USC vs. No.7 Stanford, 7:45 p.m. ET, ESPN (Pac-12 Championship Game)
Stanford is the one betting favorite that isn't guaranteed to make the CFP if they win their conference championship game. With two losses on the season, the Cardinal would likely need Alabama or Clemson to lose in order for to get in.
No.5 Michigan State vs. No.4 Iowa, 8 p.m. ET, FOX (Big Ten Championship Game)
This is essentially a play-in game for the CFP. Going to 13-0 with the Big 10 title should secure Iowa a spot in the postseason, and Michigan State probably won't be left out if they can add a win over the Hawkeyes to their already impressive resume.
No.8 North Carolina vs. No.1 Clemson, 8 p.m. ET ABC (ACC Championship Game)
The Tar Heels weren't even ranked a month ago, but their CFP hopes are alive. A win over the nation's top team would put them on a 12-game winning streak, making it difficult for the selection committee to keep them out of title contention. But it will be hard for North Carolina to upset Clemson, who is undefeated with two top-10 wins.
© Copyright IBTimes 2023. All rights reserved.