College Football Top 25 Rankings: BYU, USC, UCLA, Georgia Move Up In Week 3's Poll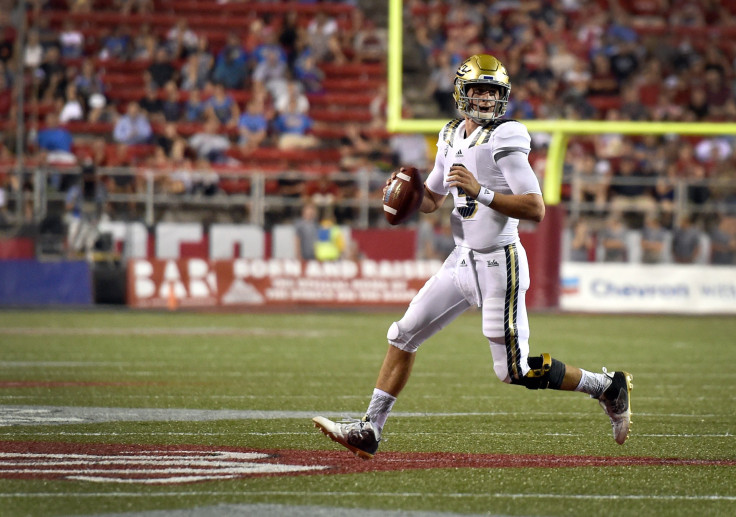 While the top three went unchanged, eight schools received a major boost in the latest Associated Press Top 25 poll following big victories in the third week of the season. The No. 1 Ohio State Buckeyes remain the nation's top ranked team, but USC, Georgia, Florida State, and UCLA headline the eight schools to climb multiple spots in the rankings.
The list of climbers also includes No. 15 Ole Miss, No. 16 Oklahoma, No. 20 Arizona and No. 21 Utah.
Ohio State retained its top ranking, but lost two first-place votes to Big Ten rival Michigan State, who earned the biggest victory of the young season, defeating then-No. 7 Oregon, 31-28. Mike Dantonio's squad rose one spot to No. 4, while the Ducks fell back five spots to No. 12.
The largest drop in the rankings belongs to injury-plagued No. 18 Auburn, which plummeted 12 places after it needed overtime to shake off Football Championship Subdivison program Jacksonville State, 27-20.
Powered by quarterback Cody Kessler's 410 yards and three touchdowns, the Trojans mowed down Idaho 59-9 for their second straight 50-point outing and own the nation's sixth highest-scoring offense. USC climbed from No.8 to No. 6 and face Stanford on Saturday.
Georgia, putting pressure on unchanged No. 2 Alabama as the only other SEC squad in the top 10, were led by running back Nick Chubbs and his 189 rushing yards to blow past Vanderbilt, 31-14. Mark Richt's Bulldogs moved from No. 10 to No. 7 and face South Carolina on Saturday in a nationally televised game.
Florida State leaped to No.9 after being slotted at No.10 to start the season, and then falling to No. 11 in Week 2. The Seminoles thumped Texas State and the University of South Florida in the first two weeks.
Following an impressive 37-3 victory over UNLV on the road, UCLA joins Oklahoma, Utah and BYU as the teams that improved their ranking three spots. Behind Josh Rosen, a freshman quarterback who has exceeded expectations, the Bruins moved up from No. 13 to No. 10. Oklahoma climbed from No. 19 to N0. 16, while Utah jumped from No. 24 to No. 21.
Ole Miss moved up from No. 17 to No. 15. The Rebels, taking advantage of the early schedule before opening SEC play against the Tide on Saturday, lead the nation in scoring after surging pasting Fresno State, 73-21, and gaining 607 yards.
But BYU has been among the biggest surprises in college football. The Cougars, who lost Heisman Trophy candidate Taysom Hill to a season-ending injury, climbed to No. 19 after not being in the Top 25 in Week 2.
They continued their late game heroics by upsetting then-No. 20 Boise State with a 35-yard touchdown strike from freshman quarterback Tanner Mangnum to Mitchell Jeurjens with 45 seconds left in the game. That came on the heels of the Cougars' incredible Hail Mary victory at Nebraska to start the season.
Bronco Mendenhall's squad will take on UCLA on Saturday.
Here's a complete look at the Top 25:
Rank School (First-place votes)
1. Ohio State (59)
2. Alabama
3. TCU
4. Michigan State (2)
5. Baylor
6. USC
7. Georgia
8. Notre Dame
9. Florida State
10. UCLA
11. Clemson
12. Oregon
13. LSU
14. Georgia Tech
15. Ole Miss
16. Oklahoma
17. Texas A&M
18. Auburn
19. BYU
20. Arizona
21. Utah
22. Missouri
23. Northwestern
24. Wisconsin
25. Oklahoma State
© Copyright IBTimes 2023. All rights reserved.