Colombia Government, FARC Rebels To Sign Ceasefire Thursday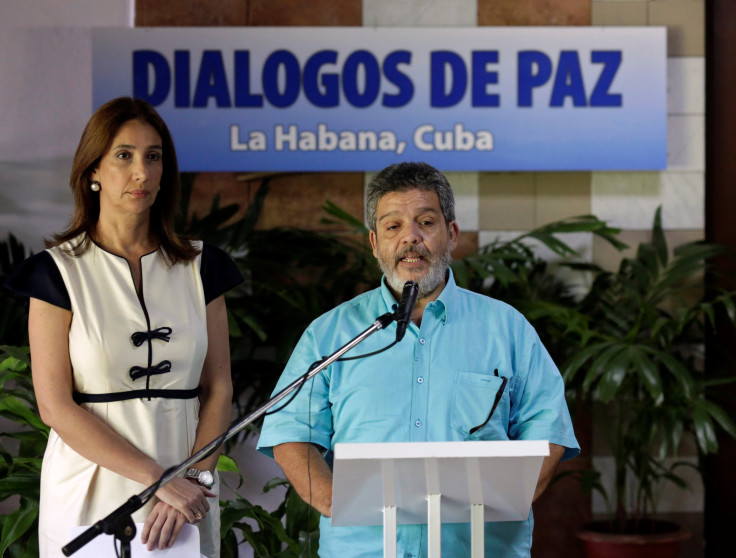 A civil war that's gone on in Colombia for 52 years is set to end Thursday, when the left-wing rebel group, Revolutionary Armed Forces of Colombia (FARC), will sign a ceasefire agreement with the country's government, more than three-and-a-half years after negotiations between the two sides began. The ceremony, to be held in Havana, will signal the beginning of the end to the last major insurgency in Latin America that has claimed over 220,000 lives and displaced millions during its more than five decades of armed conflict.
The historic peace agreement will be signed by Colombian President Juan Manuel Santos and FARC leader Rodrigo Londoño Echeverri, who goes by the nom de guerre Timochenko. President Raúl Castro of Cuba, Venezuelan President Nicolás Maduro and President Michelle Bachelet of Chile — the three countries have sponsored and facilitated the negotiations for almost four years — will be present at the ceremony, which will also be attended by President Salvador Sánchez Cerén of El Salvador and Dominican Republic's President Danilo Medina Sánchez.
United Nations Secretary-General Ban Ki-moon has also arrived in Havana to witness the signing of the deal, which is expected to take place at 12 noon EDT. Other witnesses will include Norwegian Minister of Foreign Affairs Børge Brende and Bernie Aronson, U.S. special envoy for the Colombian peace process.
The ceasefire includes terms for FARC's demobilization and laying down of arms, as well as security for the former rebels, but negotiations for the final deal will conclude by July 20 — Colombia's Independence Day — which is when the terms of the deal will go into effect.
Fatalities and Injuries from Terrorist Attacks in Colombia | FindTheData
However, the Colombian president wants to put the agreement up for a public referendum to put a stamp of popular acceptance on it. And while a majority of Colombians support a peace plan, it has its share of critics, former president Álvaro Uribe Vélez among the harshest, who has accused Santos of being a traitor for negotiating with the rebels.
FARC, which started out as a peasant movement aiming for land reform, has become increasingly unpopular among Colombians. The rebel group, whose numbers now stand at less than half its peak strength of 27,000, announced a unilateral ceasefire over a year ago, and along with the government, set March 23, 2016, as the deadline for signing a formal ceasefire. While that date came and went, with issues such as the safety of the rebels unsolved, the process got a shot in the arm when U.S. Secretary of State John Kerry met both sides separately a couple of days before the March deadline and offered support to rebels who lay down their arms.
Álvaro Uribe criticized Kerry's meeting with the rebels, who he called the world's largest drug cartel and a terrorist group. The U.S. has designated FARC a terrorist organization and also accused it of drug trafficking. Kerry's meeting with FARC fighters was partially a result of President Barack Obama's push to improve U.S. standing in Latin America, as well as a request from President Santos, who is keen to establish peace in his country. Most people in the South American nation have never known a time of peace when the government was not fighting FARC.
© Copyright IBTimes 2023. All rights reserved.