Colombia Peace Deal: President Juan Manuel Santos To Meet Predecessor Alvaro Uribe To Discuss FARC Ceasefire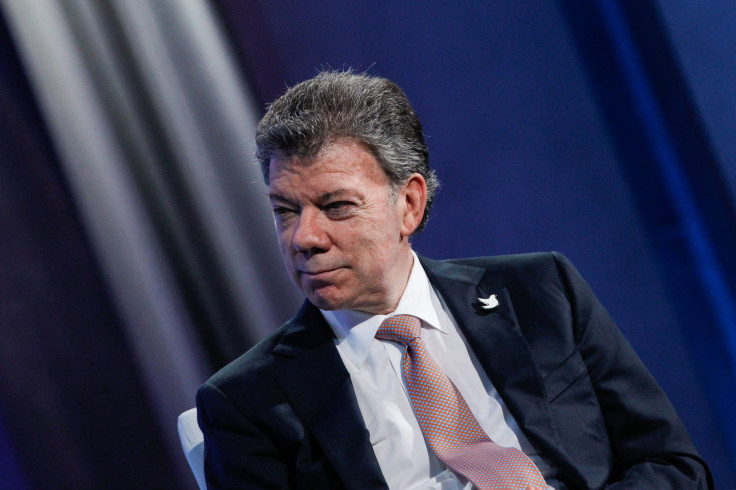 Colombian President Juan Manuel Santos will meet with former president Alvaro Uribe, one of the strongest opponents to the historic peace deal between the government and the country's rebels that hopes to end a 52-year-old civil war. The two men will meet face-to-face Wednesday to discuss the deal marking their first meeting in years.
They spoke over the phone Tuesday setting up this meeting, which Santos announced in a tweet. Wednesday's meeting will also include former president Andrés Pastrana Arango.
Colombians rejected the peace deal in a referendum Sunday. The deal, announced Sept. 26, had to be ratified by the people in order to come into effect. Santos announced earlier that the ceasefire will last until the end of this month. The war claimed the lives of over 220,000 people.
"Time is very important. We can't prolong this process and this dialogue for a long time because we're in a gray zone, a sort of limbo, that is risky and can wash away the entire process," Santos reportedly said.
The announcement came after a meeting Tuesday between government officials led by chief negotiator Humberto de la Calle and their counterparts from the Revolutionary Armed Forces of Colombia (FARC). The meeting's aim was to see if the FARC rebels would be open to renegotiate the terms of the peace deal. Santos also met with business leaders and evangelical Christians, who are against the deal.
"I hope we can move forward to realize the necessary agreement to find a solution to this conflict," Santos said in a televised address.
Santos was the defense minister in Uribe's government and the latter helped elect him president. But the two had a major fallout shortly after Santos took over as the country's president.
Uribe in the days leading up to Sunday's referendum spoke against provisions in the peace deal that prevented rebels who had committed serious war crimes from going to jail. He argued that giving the rebels seats in the congress instead would send the wrong message to criminal gangs. However, after the referendum, both Santos and Uribe have adopted a reconciliatory approach.
© Copyright IBTimes 2023. All rights reserved.