Colombia President Santos Approaches NATO; Bolivia, Venezuela And Nicaragua Condemn Him For It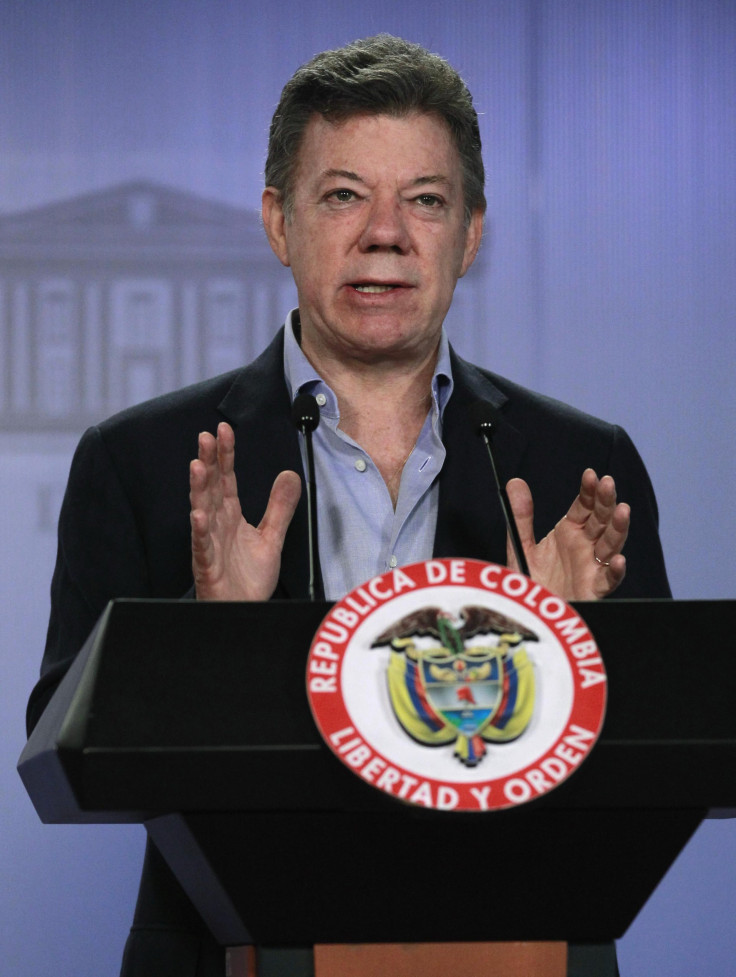 Could the North Atlantic alliance be going South? Colombian President Juan Manuel Santos announced on Thursday plans to form a closer partnership with the North Atlantic Treaty Organization, or NATO, military alliance.
According to Santos, Colombia has been collaborating with NATO for a long time. "We have always been clear about that," he said in a press conference in London as reported by Los Angeles' Hispanic newspaper La Opinión. "We will continue our relationship with the alliance."
The president met up with British Prime Minister David Cameron on Saturday, where the allusions to becoming a "partner" of NATO started pouring in. As vague as Santos' remarks have been about his country's possible candidacy for the alliance -- there were no words uttered about the application process, time frame or how they would meet the requirements for such membership -- the very thought of Colombia joining NATO has sparked alarm in other countries in Latin America. The ministers for defense of both Ecuador and Brazil expressed their reservations about such an event and pointed out that this issue should be discussed "throughout the region."
"Evidently, it raises concerns," María Fernanda Espinosa, defense minister of Ecuador, said during a press conference with her Brazilian counterpart, Celso Amorim. "We are going to start a dialogue; we want to know more. We are an integrated, cooperative area in South America, and it is important that we discuss these things."
Amorim explained that the worry arises over Colombia, "a member of Unasur [Union of South American Nations, the equivalent of NATO in the continent], approaching a military group from outside our region."
Other regional governments were more vocal about their disdain for Colombia's flirtations with NATO. Venezuela, Nicaragua and Bolivia openly criticized Santos' gestures. Venezuela, which had already condemned Colombia for inviting opposition leader Henrique Capriles for a visit early May, said it represented a "threat to the continent."
Bolivia's leader, Evo Morales, took his dislike of Santos' move one step further, sending a petition to Unasur to call a special meeting to evaluate what penalties could be imposed on Bogota if Colombia joined NATO, Venezuelan newspaper El Nacional reports. "Any presence of NATO in South America or Latin America poses a threat to peace in the region," Bolivian Minister for Defense Rubén Saavedra told La Paz newspaper La Razón.
In light of this criticism, Colombia's defense minister, Juan Carlos Pinzón, specified that the country is looking for a partnership, not full membership, Spanish newspaper El Imparcial reports.
Nevertheless, it all might end up being much ado about nothing: BBC reports that NATO said Colombia could not join the alliance as a full-fledged member, because it does not fulfill the geographical requirement of being around the North Atlantic. However, a spokesperson to the organization said that it would be interested in pursuing cooperation with the country.
© Copyright IBTimes 2022. All rights reserved.
FOLLOW MORE IBT NEWS ON THE BELOW CHANNELS