Colombian Government, ELN Guerrillas Six-month Ceasefire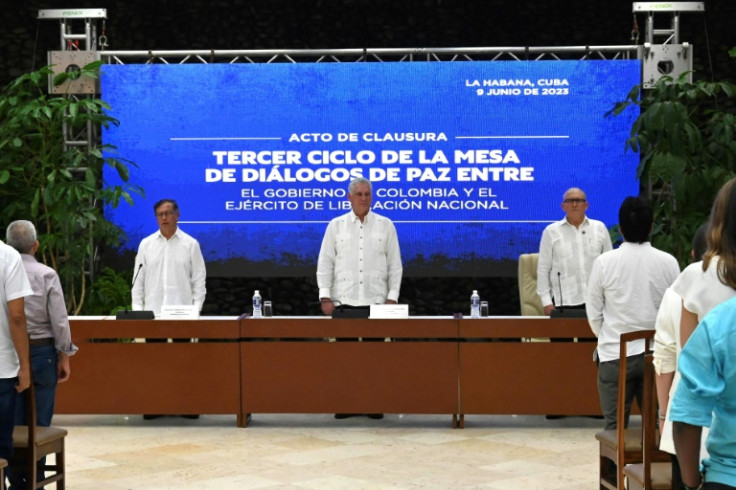 Colombia's government and ELN guerrilla group on Friday signed a six-month ceasefire pact in Havana as they work towards ending decades of conflict in the South American country.
The deal for a "bilateral, national and temporary ceasefire," according to Cuban Foreign Minister Bruno Rodriguez, was signed in the presence of Colombian President Gustavo Petro and ELN leader Antonio Garcia.
Rodriguez said the ceasefire -- sealed to conclude a third round of peace talks in the Cuban capital -- would enter into force on August 3.
Founded in 1964, the ELN had more than 5,800 combatants in 2022, according to authorities.
It has taken part in failed negotiations with Colombia's last five governments.
On Wednesday, Petro had said he would travel to the Cuban capital to "sign a document that could mean the beginning... of an era of peace in this country."
Dialogue with the ELN started in 2018 under then president Juan Manuel Santos, who had signed a peace treaty two years earlier with the larger Marxist Revolutionary Armed Forces of Colombia (FARC) rebel group.
The FARC subsequently disarmed and transformed itself into a political party.
But talks with the ELN were called off in 2019 by conservative then-president Ivan Duque following a car bomb attack on a police academy in Bogota that left 22 people dead.
Duque had arrest warrants issued for ELN negotiators and asked Cuba to extradite them, which Havana refused. This caused then US-president Donald Trump to add Cuba to a list of countries deemed as sponsors of terrorism.
Petro, a former guerrilla who last August became Colombia's first-ever leftist leader, reached out to the ELN shortly after coming to power in pursuit of his "total peace" policy.
The two sides resumed formal peace talks in Venezuela in November for the first time since 2019. A second round was held in Mexico, followed by a third now in Cuba.
The ELN had refuted a ceasefire announcement made by Petro on New Year's Eve, and an ELN ambush of a military convoy in March, which left nine soldiers dead, had cast doubt over the future of the talks.
Friday's signing came just days after Colombia's top prosecutor scrapped an arrest warrant, at Petro's request, for ELN leader Garcia.
The ELN is primarily active in the Pacific region and along the 2,200-kilometer (1,370-mile) border with Venezuela.
Colombia has continued to be gripped by violence despite the 2016 peace deal, as fighting continues over territory and resources between dissident FARC guerrillas, the ELN, paramilitary forces and drug cartels.
© Copyright AFP 2023. All rights reserved.