Confederate Flag Controversy: Fresno City Council Bans Display On Government-Owned Property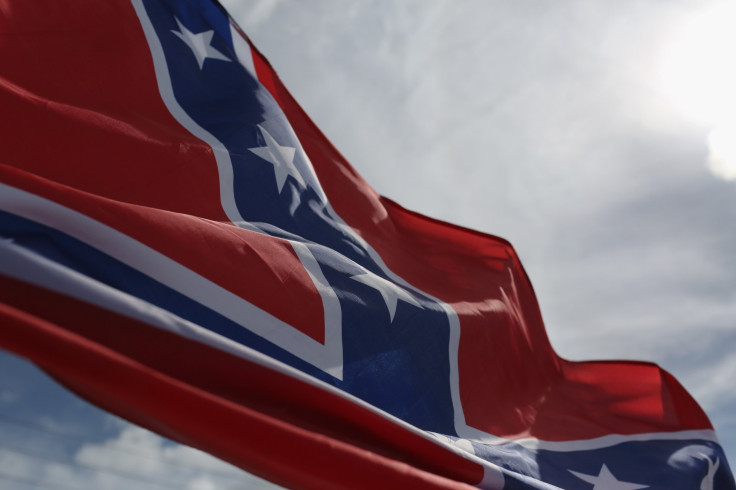 Council members in Fresno, California, reportedly unanimously passed an ordinance Thursday that would prohibit the Confederate flag from being displayed on any city-owned property. The measure, which follows a month of national debate about the controversial flag, passed 4-0 with two officials abstaining, according to local KFSN-TV reporter Gene Haagenson.
Residents of Fresno, the fifth-largest city in California, told the Fresno Bee they couldn't remember a time when the Confederate flag flew over the City Hall building. But the June 17 massacre at the predominantly black Emanuel African Methodist Episcopal Church in Charleston, South Carolina, by a man who appeared in photos with the banner set off a discussion about whether it ever should.
"When we looked into the issue here, we realized there was no ordinance that would disallow us to fly the Confederate flag on government property," council President Oliver Baines told the Bee. "We wanted to make sure we were taking the right posture with the national mood and also to make sure that it never happens here."
Baines' proposal called the Confederate flag a "symbol of hatred" and aimed to honor the nine victims of the Charleston shooting. It also would forbid the sale of Confederate flags without an educational or historical reason, KVPR radio reported. It would not prevent people from displaying it on private property or selling it at concerts in city-owned venues. The rule is slated to take effect in 30 days.
Fresno joined several states, cities and businesses in banning the Confederate flag. South Carolina lawmakers voted to remove its Confederate flag from the Capitol grounds last week, a move preceded by a decision to do the same in Alabama. Authorities in Maryland, North Carolina and Tennessee were removing it from license plates, the New York Times reported. Sears, Amazon, eBay and Walmart stopped selling Confederacy-themed products, as well.
© Copyright IBTimes 2023. All rights reserved.