Conor McGregor News: Early Update On Irish Fighter Ahead Of Nate Diaz Rematch At UFC 202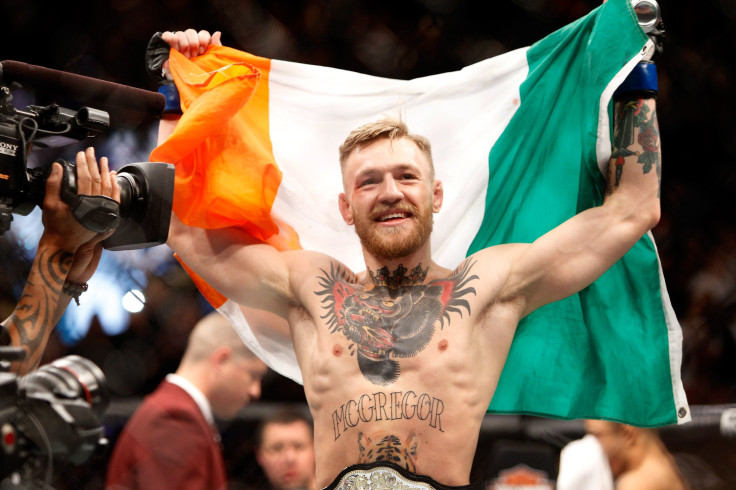 Conor McGregor isn't taking any chances this time. The biggest name in mixed martial arts is looking for revenge against Nate Diaz, and he's taking every step possible to make sure that he wins his welterweight fight at UFC 202 in Las Vegas on Aug. 20.
UFC 200 was supposed to be the biggest event in the company's history, but make no mistake, McGregor-Diaz II is the No.1 fight of 2016. The two fighters headlined UFC 196 in March, generating 1.5 million pay-per-view buys, and the rematch will do big numbers, as well.
Set to take place at the T-Mobile Arena, where McGregor and Diaz were initially supposed to headline UFC 200 on July 9, the two fighters will once again face off at 170 pounds. McGregor plans on going back down to 145 pounds to defend his featherweight title after UFC 202, but he has business to take care of first.
"I'll beat Nate, get that win back, dominate my division again, and then we'll talk (about) the trilogy fight with Nate," McGregor said at last week's UFC 202 press conference. "I believe this will be a trilogy."
McGregor already knows who he'll be fighting after UFC 202. He was cageside for the UFC 200 interim featherweight championship fight between Jose Aldo and Frankie Edgar, watching intently as the man he knocked out in 13 seconds at UFC 194 earned a title shot. The 28-year-old will be ready for his rematch with Aldo when the time comes, but he knows he must focus on Diaz.
Failing to do so for their UFC 196 fight did him no favors. After Diaz replaced then-lightweight champion Rafael dos Anjos, McGregor's originally scheduled opponent, the featherweight champ never expected to lose. When the fight went from a 155-pound title fight to a 170-pound bout on less than two weeks' notice, McGregor remained certain that he would record his sixth straight knockout.
"The Aldo fight was such a big result for the gym and the country, that we all took the foot off the pedal," McGregor told MMAjunkie in late June. "Then you're straight into another one, and it's hard to explain the mindset at the time, but it was a bit of a circus, almost like it was a pretend fight.
"It was kind of like, 'Ah, you'll just hit him once and he'll go down and then we'll carry on with the journey and get ready for the dos Anjos fight, because that's important.'
"Then that loss made us all take a step back and re-evaluate things. The book was the same sort of thing because my life has been jumping from one event to the next, and this sort of forced me to do that."
Fighting at welterweight for the first time, McGregor had a major edge in strikes in the first round, but he was unable to knockout the bigger Diaz. He tapped out to a rear-naked choke in the second round, suffering his first ever UFC loss.
McGregor trained in his native Dublin for UFC 196, and he was training outside of the United States as he prepared for UFC 200. But he's back in Las Vegas as Aug. 20 approaches, holding his camp in the city in which he'll be fighting, just like he did before his last two victories.
McGregor knows firsthand that he can't underestimate his opponent. Diaz has gone toe-to-toe with some of the best fighters in the world during his nine years with the company, and he did what seven other UFC fighters failed to do against McGregor. Entering their last fight as a heavy underdog, Diaz has been given nearly the same odds to win as McGregor.
But just because McGregor isn't overlooking Diaz, that doesn't mean he isn't incredibly confident. In addition to his success inside the octagon, it's McGregor's brash, cocky nature that has made him arguably the top star in UFC history. That part of McGregor's preparation hasn't changed, and he fully expects to return the favor to Diaz.
"Aug. 20 is my date. UFC 202, the real 200. And I will have my redemption."
© Copyright IBTimes 2023. All rights reserved.