Coronavirus Vaccine May Never Be Developed, Boris Johnson Warns 'It Might Not Come To Fruition'
KEY POINTS
The United Kingdom and Italy are hoping their decision to reopen their economies won't accelerate the arrival of the COVID-19 second wave
Both Conte and Johnson are convinced a COVID-19 vaccine won't arrive in time to save their economies from ruin
"We're facing a calculated risk in the knowledge that the contagion curve may rise again," Conte said
The United Kingdom and Italy are warning their citizens to brace for the consequences of reopening their economies without a vaccine against COVID-19, a decision that carries with it the high risk of stoking infections and increasing the chances of more deaths.
Italian prime minister Giuseppe Conte announced the country will take a "calculated risk" to further ease its COVID-19 lockdown measures. At the same time, Conte admitted "the contagion curve" might rise again, but he said Italy can't afford to wait for a vaccine that might be two years in the making. The alternative is economic ruin.
For his part, British Prime Minister Boris Johnson, who was infected by COVID-19 in April, sounded more pessimistic than Conte about the possibility of a vaccine making its presence felt any time soon.
Writing in the Daily Mail on Sunday, Johnson predicted there might never be a vaccine for COVID-19 despite the massive global effort to develop one. There are currently more than 100 candidate vaccines in the works and more are being added every week.
Johnson wrote, "There remains a very long way to go, and I must be frank that a vaccine might not come to fruition." He continued, "We need to find new ways to control the virus," including testing people that have symptoms and tracing contacts of those infected people.
Regarding the reopening of Italy's economy, Conte announced travel to and from the country, and between its regions will be allowed starting June 3. He added gyms, swimming pools and sports facilities will reopen May 25. Cinemas and theatres will reopen June 15.
Shops and restaurants reopened May 15 with strict social distancing. Catholic churches reopened on the same day, but were also subject to strict social distancing measures. Other faiths are now also allowed to hold religious services.
"We're facing a calculated risk in the knowledge that the contagion curve may rise again," said Conte in a televised address Saturday. "We have to accept it otherwise we will never be able to start up again."
He warned Italy's businesses can no longer afford to wait until a vaccine is available because "we would end up with a strongly damaged economic and social structure." Conte, however, stressed economic restrictions will be relaxed gradually to avoid a second COVID-19 wave.
As of 05:10 GMT (1.10 a.m. ET), Monday, Italy was the sixth most COVID-19 infected country in the world with 225,435 cases, according to Worldometer tracking. Italy also had the world's third largest number of COVID-19 deaths at 31,908. In deaths, Italy stands behind the United States (90,978 deaths and 1.53 million confirmed cases) and the United Kingdom (34,636 deaths and 243,695 confirmed cases).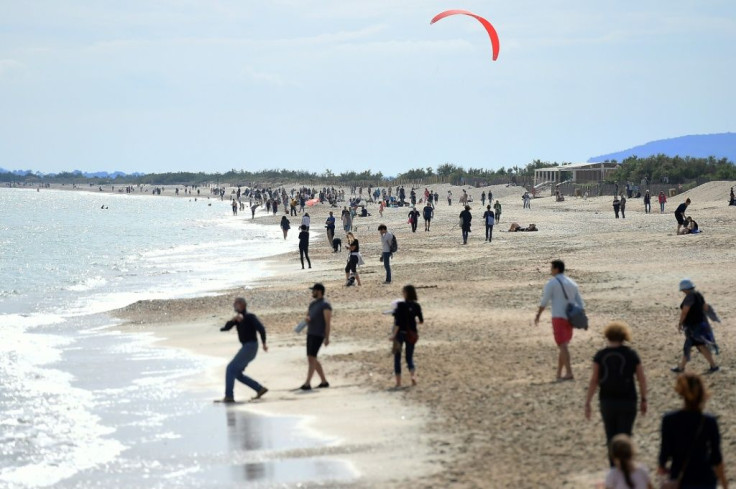 Johnson's government also relaxed some restrictions on outdoor activities in England last week. It plans to ease rules over the next few months.
"I know this will not be easy -- the first baby steps never are," wrote Johnson.
The U.K. government has set aside $110 million in funding to accelerate the opening of a new Vaccine Manufacturing and Innovation Centre (VMIC) at the Harwell science and innovation campus in Oxfordshire. VMIC will have the capacity to produce enough doses for the entire U.K. population in some six months. It will open in the summer of 2021.
Business Secretary Alok Sharma said the U.K. has two of the world's "frontrunners to develop a vaccine" -- Oxford University and Imperial College London. Both these esteemed institutions are making "good progress" at "unprecedented speed" in developing a vaccine. On the other hand, Sharma warned "there are no certainties."
"We may never find a successful coronavirus vaccine," he said.
© Copyright IBTimes 2023. All rights reserved.