Cowboys Owner Jerry Jones To Players: Stand For The Anthem Or Don't Play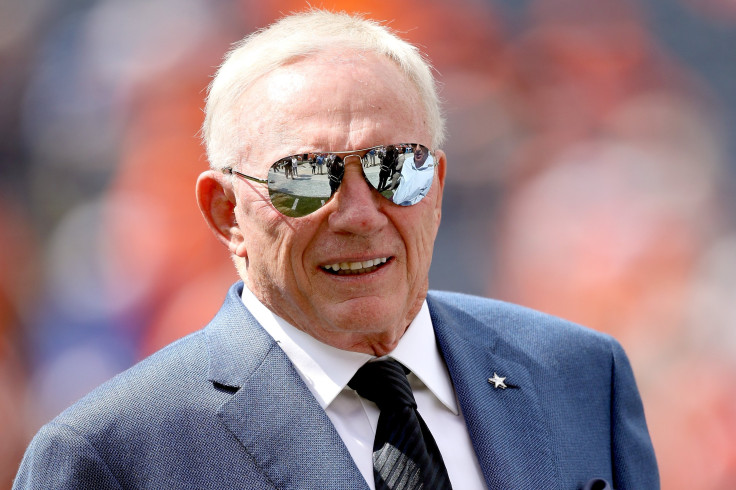 Cowboys owner Jerry Jones addressed his thoughts on NFL player protests on Sunday, saying players should stand, or won't play.
"I know this, we cannot ... in the NFL in any way give the implication that we tolerate disrespecting the flag," said Jones following his team's loss to the Green Bay Packers. "We know that there is a serious debate in this country about those issues, but there is no question in my mind that the National Football League and the Dallas Cowboys are going to stand up for the flag. So we're clear."
Vice President Mike Pence walked out of an Indianapolis Colts game Sunday after players on the opposing team, the San Francisco 49ers, kneeled during the playing of the national anthem. President Donald Trump tweeted Sunday that he had instructed Pence to do so and on Monday that the trip was planned long in advance. Pence attended the game with his wife.
"I asked @VP Pence to leave stadium if any players kneeled, disrespecting our country. I am proud of him and @SecondLady Karen," said Trump on Twitter. "The trip by @VP Pence was long planned. He is receiving great praise for leaving game after the players showed such disrespect for country!"
Pence is the former governor Indiana and the before the game there was a ceremony to retire former Colts quarterback Peyton Manning's number and celebrate his contributions to the state.
Former 49ers quarterback Colin Kaepernick began kneeling during the national anthem as a way to protest racial inequality and police brutality. The movement spread to a few players, but was spotlighted by Trump during a September speech in which he called on NFL owners to fire players who kneeled and used the term "son of a bitch." Trump also spent a weekend tweeting about players kneeling and suggested people boycott the NFL because of it.
Trump's words caused many more players to kneel, and received widespread condemnation from the NFL from owners to players. The protest originally meant to address police brutality and racial inequality has been injected with politics and Trump and Pence have equated it with disrespecting "the flag" and soldiers.
"There is no room here if it comes between looking non-supportive of our players and of each other or creating the impression that you're disrespecting the flag, we will be non-supportive of each other," Jones said. "We will not disrespect the flag."
Jones said that players that don't stand during the anthem or perform a different protest won't play.
"But if there's anything that is disrespectful to the flag, then we will not play. OK? Understand? If we are disrespecting the flag, then we won't play. Period," said Jones.
© Copyright IBTimes 2023. All rights reserved.