Cuban Baseball Federation Criticizes Trump Administration's Decision To End MLB Deal
The Cuban Baseball Federation criticized the Trump Administration for canceling their deal with Major League Baseball in the United States that would allow Cuban players to sign with MLB franchises without having to defect from their country.
The Trump Administration declared Monday the deal between MLB and the Cuban Baseball Federation to be illegal under the U.S. sanctions as the federation is part of the Cuban government. The announcement comes just two weeks after they released a list of 34 players who would be eligible to sign with MLB franchises.
The 2019 MLB season is two weeks old and more than a few Cuban players were expected to be signed for the ongoing campaign. The U.S. baseball clubs, similar to the deals they have with foreign players from Japan and other countries, would have paid 25 percent of the players signing bonus to the federation.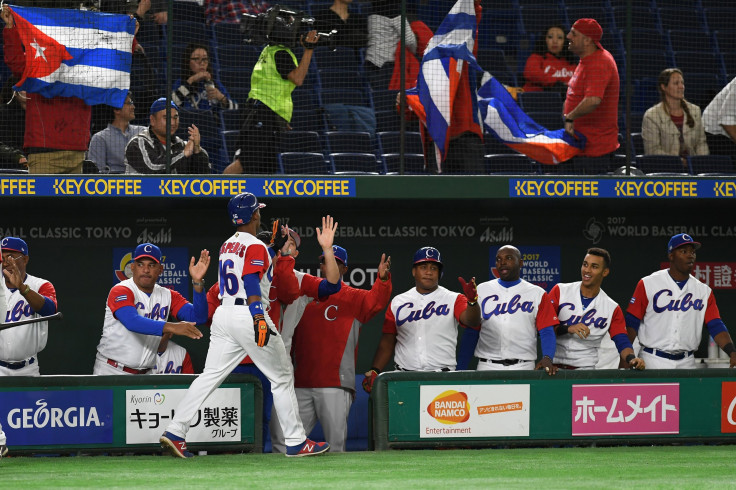 "The agreement with MLB seeks to stop the trafficking of human beings, encourage cooperation and raise the level of baseball. Attacks with political motivation against the agreement achieved harm (to) the athletes, their families and the fans," the Cuban Baseball Federation told CNN.
The MLB also stood firm with vice-president Michael Teevan saying: "We stand by the goal of the agreement, which is to end the human trafficking of baseball players from Cuba."
The original agreement between the two countries was formulated during the Obama Administration when a regulatory change allowed U.S. employers to hire Cuban nationals despite the 60-year-old U.S. trade embargo against the island nation.
The deal between the MLB and the Cuban Federation was announced in December last year, which allowed players from Cuba, classified as international amateurs, to sign minor league contracts with MLB franchises.
© Copyright IBTimes 2023. All rights reserved.