Curry Calls Paul 'Great Mentor', McGrady Warns Warriors Guard About Being Careless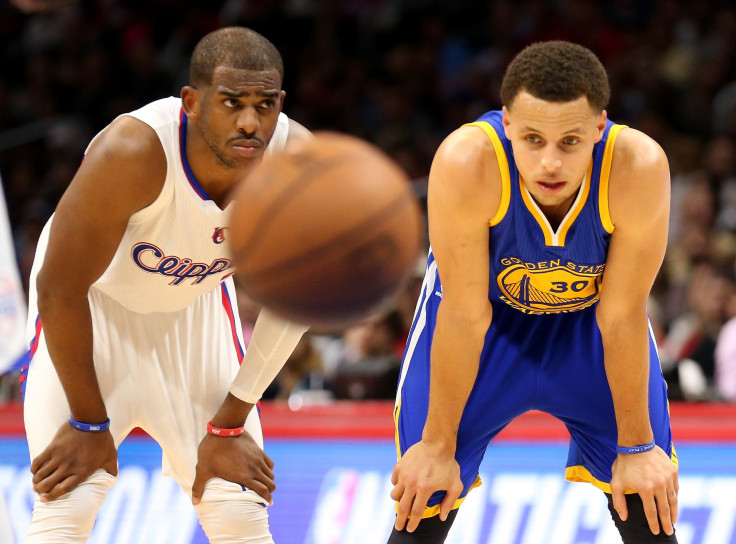 Golden State Warriors star Stephen Curry paid tribute to Houston Rockets point guard Chris Paul ahead of the two sides' meeting in the Western Conference Finals.
The two guards will come up against each other on Monday night when the Warriors visit the Toyota Center in Houston for Game 1 of the best of seven series.
Curry and Paul have played against each other a number of times over the past five years when the Warriors came up against the LA Clippers and most recently the Rockets. They shared a point guard rivalry with both players considered stalwarts in their position.
However, ahead of their meeting on Monday night in the Western Conference Final, Curry labeled Paul a "great mentor" referring to the time when they worked out together in 2009 as the former was preparing for his rookie season with the Warriors having been picked 7th overall in the NBA Draft.
"He was a great mentor when it came to understanding how a guy on his level prepared over the summer for an NBA season," Curry said after practice Friday, as quoted on ESPN. "How disciplined he was, his work ethic, and I got to see that firsthand after summer league through the beginning of the season. And obviously we got a Carolina connection."
The rivalry between the two will be reignited when they face each other on Monday night, but despite not being as close as they once were, the respect for each other remains mutual between the two point guards.
"He demonstrated firsthand what it takes to be great in this league, and it was a nice little eye-opener for me that summer," Curry added. "Work out with him, compete against him and take that confidence I had into my rookie year [to] get off on a good foot."
Curry is looking to lead the Warriors to their fourth straight NBA Final — having won the 2015 and 2017 championships, while Paul is looking to make his first and the Rockets will have their task cut out as they look to take out the juggernaut from California.
Meanwhile, former Rockets star and seven-time All-Star Tracy McGrady warned Curry that he will have to be at his best throughout the seven-game series. He revealed that the two-time MVP can get careless with the ball at times, which could hurt the Warriors owing to the potency of the Rockets' offense lead by James Harden and Paul.
McGrady is hoping that all the players are at their best as the two best offensive teams in the Western Conference take on each other. A number of outsiders believe this will be the Warriors' biggest test under the Steve Kerr era despite his team having made three consecutive finals.
"Sometimes Steph gets a little too comfortable and gets a little too careless with the ball. He can't do that with these guys," former guard and forward McGrady told ESPN's "The Jump," as quoted by the Express. "They will capitalize on these turnovers, get out and run."
"Boy, if James Harden has it going, CP has it going and these shooters have it going, we're going to be in for a classic battle."
"I'm hoping everybody is on top of their game. James Harden be MVP James Harden. That's what I want to see," he added.
© Copyright IBTimes 2023. All rights reserved.