Dallas Cowboys' Brandon Weeden Unhappy With Losing Starting QB Job To Matt Cassel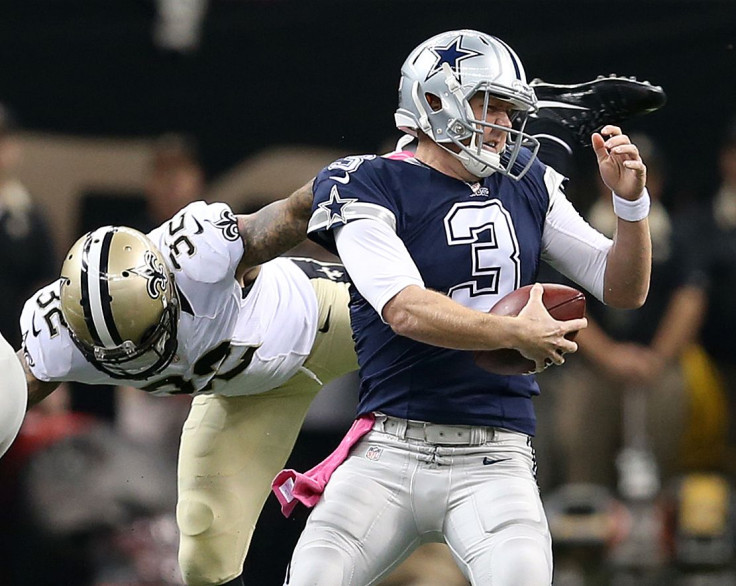 The Dallas Cowboys lost Tony Romo to an injury in Week 2 and Brandon Weeden took over the starting quarterback spot.
However, the Cowboys have since gone 0-3 in the last three games with Weeden starting, and the team has decided to bring in Matt Cassel under center for their Week 7 match-up against the New York Giants.
The change did not go well with Weeden, who admitted he was frustrated with the demotion.
"How do you think I took it? Obviously I'm pissed," Weeden told the Star-Telegram about his demotion to the back-up quarterback spot. "But, you know, nature of this business."
Weeden backtracked a bit in the same interview adding that he will keep his feelings to himself and that he's going to be professional about the team's decision.
The Cowboys went 2-0 with Romo to start the season beating the New York Giants (27-26) and Philadelphia Eagles (20-10) but has since lost to the Atlanta Falcons (39-28), New Orleans Saints (26-20) and New England Patriots (30-6), all with Weeden starting under center.
Weeden, who was a first round pick in the 2012 NFL Draft, has accumulated 739 passing yards on 71-of-98 completions with 2 touchdowns and 2 interceptions so far this season.
Weeden's best full game performance this year came in the overtime loss to the Saints when the 32-year-old QB had 246 passing yards on 16-of-26 completions with a touchdown. He also had a nice game filling in for the injured Romo in the Week 2 game against the Eagles when he for 73 yard on a perfect 7-of-7 completions with a key touchdown.
The Cowboys, which are on bye-week, meet the Giants next Sunday for the teams second and final meeting in the regular season.
© Copyright IBTimes 2023. All rights reserved.