Dallas Cowboys News: Preseason Schedule, Super Bowl 53 Odds, Playoffs Chances Before First Game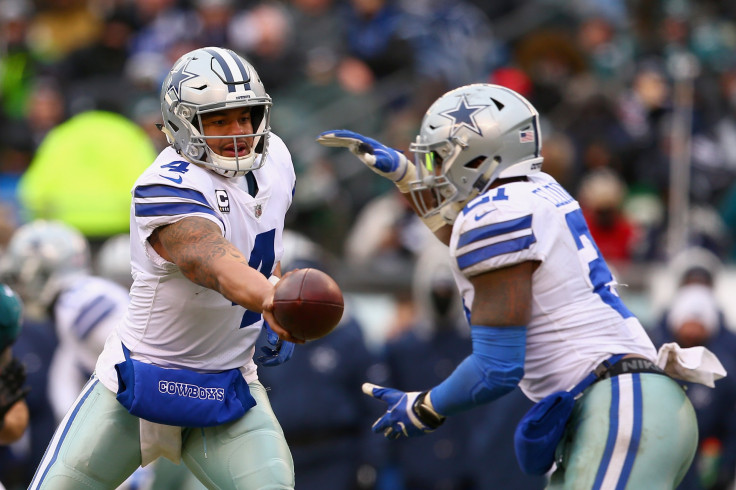 The Dallas Cowboys are ready to put last year's disappointing campaign behind them and move on to the 2018 NFL season. America's Team will play their first game of the year Thursday night when they visit the San Francisco 49ers in Week 1 of the preseason.
After finishing with the NFC's best record in 2016, Dallas went 9-7 and missed the playoffs last season. Ezekiel Elliott missed six games with a suspension and Dak Prescott didn't perform like the Pro Bowler he was as a rookie. Seven teams in the conference start the preseason with better Super Bowl 2019 odds than the Cowboys, who come in at 25/1, per OddsShark.
Finishing seventh in the conference would put Dallas just outside of the playoff race. Their postseason betting odds opened at +150 at Bovada.lv, giving them -180 odds to miss the playoffs for a second straight year.
Dallas' offensive line was good in 2017, but it didn't dominate opposing defensive fronts like it did the year before. The unit could be the key to getting the Cowboys back into the Super Bowl conversation.
Elliott went from averaging 108.7 rushing yards per game on 5.1 yards per carry as a rookie to 98.3 yards per game on 4.1 yards per attempt in year No. 2. Prescott had an even bigger sophomore slump, seeing his passer rating drop from 104.9 to a pedestrian 86.6. The quarterback threw nine more interceptions, and wide receiver Dez Bryant is no longer with the team.
The two stars might not see much playing time in San Francisco when Dallas opens the preseason. They could see more action nine days later when the Cowboys host the Cincinnati Bengals, though Dallas held Elliott out of their first three preseason games a year ago.
The Cowboys will be cautious this month, particularly because they've been burned by preseason injuries in recent years. Prescott got the starting job in 2016 because Tony Romo suffered a broken bone in his back during an exhibition contest.
Cowboys 2018 Preseason Schedule
Thursday, Aug. 9 at San Francisco 49ers, 10 p.m. EDT
Saturday, Aug. 18 at Cincinnati Bengals, 7 p.m. EDT
Sunday, Aug. 26 at Arizona Cardinals, 8 p.m. EDT
Thursday, Aug. 30 at Houston Texans, 8 p.m. EDT
© Copyright IBTimes 2023. All rights reserved.