Dallas Cowboys News: Richard Sherman Trade Makes Sense After Tony Romo's Retirement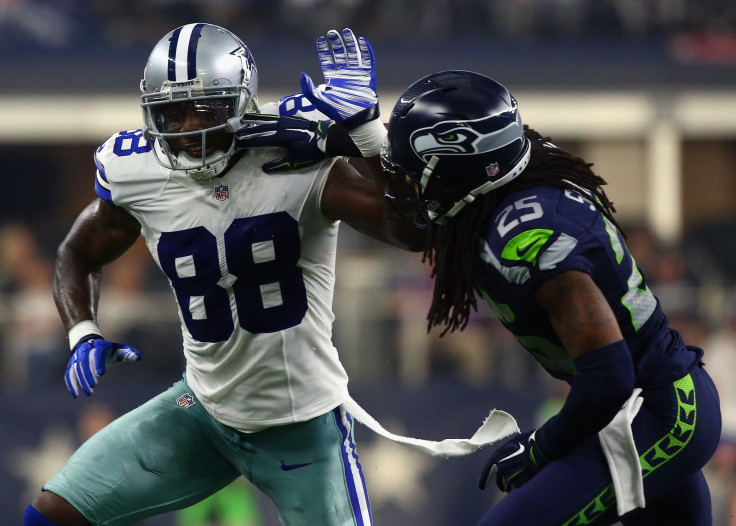 For the first time in 14 years, the Dallas Cowboys will begin a season without Tony Romo on their roster. The team released the quarterback Tuesday when he announced his retirement and his intention to join CBS as an NFL analyst.
There's plenty of skepticism around Romo's retirement, and it wouldn't be shocking to see him back in an NFL uniform for the 2017 season. It likely wouldn't be with the Cowboys, however, since the signal caller would now be free to sign with any team in the league.
READ: Will Tony Romo stay retired?
Dallas could have kept Romo on the roster, which means they would own his rights if he did have a change of heart this summer. By releasing Romo, Dallas saves $14 million.
The Denver Broncos and Houston Texans were considered the frontrunners to sign Romo before he retired, and that would likely be the case if he pulled a Brett Favre and changed his mind in a few months. Denver doesn't have a proven starting quarterback on their roster with Trevor Siemian and Paxton Lynch sitting atop the depth chart. Houston's Tom Savage is the Texans' current starting quarterback, even though he's made just two starts in three NFL seasons.
Romo could start for a number of NFL teams, despite his age and injury history. He was terrific in his one appearance last year, and he's arguably a top-five quarterback when healthy.
The only scenario in which Romo might return to the Cowboys would be in the event that Dak Prescott suffers a devastating injury. Prescott was a major key to Dallas' success a year ago, posting a 104.9 passer rating with 23 touchdowns and four interceptions.
With Romo off the team, Kellen Moore is now Dallas' backup quarterback. Moore was supposed to be the Cowboys' No.2 signal caller behind Tony Romo for the 2016 season, but he broke his ankle early in training camp. Prescott took over as the starter when Romo went down with a back injury in the preseason.
Moore re-signed with Dallas two weeks ago, getting a one-year contract worth $775,000. He went undrafted out of Boise State in 2012, splitting his five seasons between the Cowboys and Detroit Lions. The 2015 season was the only year in which he saw any regular-season action, throwing four touchdown passes and six interceptions in three games.
With their quarterback situation resolved for the 2017 season, Dallas is looking towards improving other areas of the team. The Cowboys need help on defense, specifically in the secondary, and they could make an upgrade through the draft or with a trade.
Richard Sherman, one of the NFL's best cornerbacks, can be had with the right trade offer. Seattle Seahawks general manager John Schneider has said as much, telling 710 ESPN Seattle that the team has "opened the door" for a possible deal.
"What you've seen lately in the news is real," Schneider said on the "Brock and Salk" show Wednesday. "That's on both sides. It's just open communication. He knows what's going on. We know what's going on."
After losing Barry Church and Morris Claiborne in free agency, Sherman could make for a perfect fit in Dallas. He is guaranteed to make more than $11 million in 2017, and the Cowboys have the ability to absorb Sherman's deal now that Romo is off the books.
Sherman has made the Pro Bowl in each of the last four years, leading a defense that's consistently the best in the NFC. He turned 29 years old last week.
A trade with Seattle wouldn't be easy to pull off, and Dallas could look to add a cornerback in this month's draft. USC's Adoree' Jackson and LSU's Tre'Davious White are potential first-round options for the Cowboys.
© Copyright IBTimes 2023. All rights reserved.