Dallas Cowboys News: Tony Romo Injury Update, Jerry Jones Comments On Ezekiel Elliott Visit To Pot Dispensary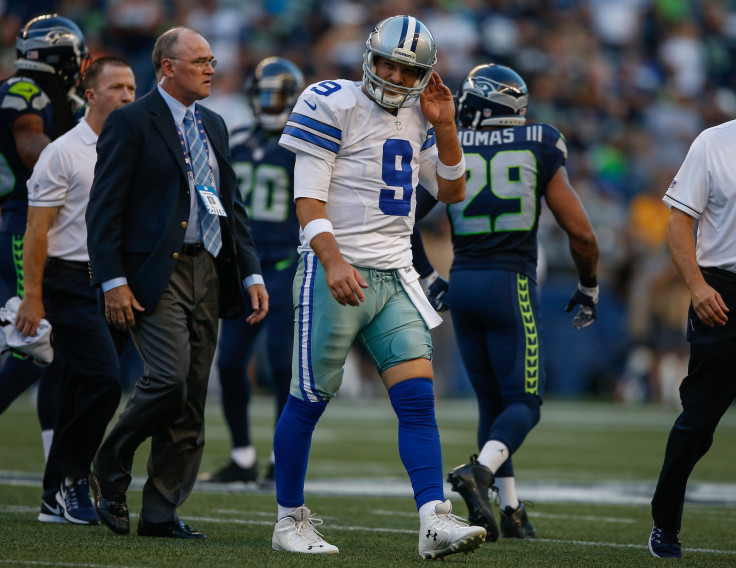 In the hours leading up to and just a few plays into Week 3's preseason loss, the Dallas Cowboys saw both their star quarterback go down and their first-round rookie running back raise yet another red flag about his character.
Three plays into Thursday night's 27-17 loss to at the Seattle Seahawks, Tony Romo took an awkward hit to his surgically repaired back from Seattle defensive end Cliff Avril and writhed on the ground for a while before heading to the sideline. The 36-year-old All-Pro, who appeared in only four games last season after suffering two collarbone injuries, did not return to the game but said he could have while quickly shooting down any worries.
"I feel fine," Romo said to reporters after the game. "Obviously, it was a jolt to the back, and it was kind of a perfect storm for a perfect hit. But I'm fine. ... I could have come back in, but it was [head coach Jason Garrett's] decision."
Though Romo added that the hit was one of the hardest he's taken in some time, he said that he didn't have an X-ray taken and any soreness from the hit was already going away.
"We don't think it's a serious thing, and we just felt better keeping him out," Garrett said.
On Friday morning, ESPN reported Dallas doesn't believe Romo is seriously injured.
Garrett may not feel the same away about rookie running back Ezekiel Elliott, who was reportedly found visiting a marijuana dispensary mere hours before his preseason debut. A video published by TMZ shows the 21-year-old former Ohio State star perusing a store called "Herban Legends" in the Seattle area, however, the report stresses that no one witnessed Elliott purchase anything.
Still, Cowboys owner and general manager Jerry Jones was clearly disappointed by Elliott's action.
"Well, I think that in and of itself the reason we are talking about is in a way part of the learning process," Jones said after the game . "But it's not good. It's just not good. It's just not good."
Elliott did look worthy of the No. 4 overall pick Dallas spent to acquire him in April's NFL draft, compiling 48 yards on only seven carries against Seattle's typically stout defense but his visit to the dispensary isn't the first alleged indiscretion Elliott's been linked to.
Currently, Elliott is under investigation by the Columbus, Ohio, district attorney's office for an alleged domestic violence against his ex-girlfriend. Elliott denied the allegation and has not been charged while the Cowboys have stood behind him.
"Again, that's a part of just really getting the big picture here," Jones said. "No matter if you played at whatever level, there is a picture here of interest. So again, I'm aware of it. I heard the report. I would know how he is, and he needs to look at that. And the other thing is it's just not good."
© Copyright IBTimes 2023. All rights reserved.