Dallas Cowboys Schedule 2016: Dates, Start Times, Games On National TV For Upcoming Regular Season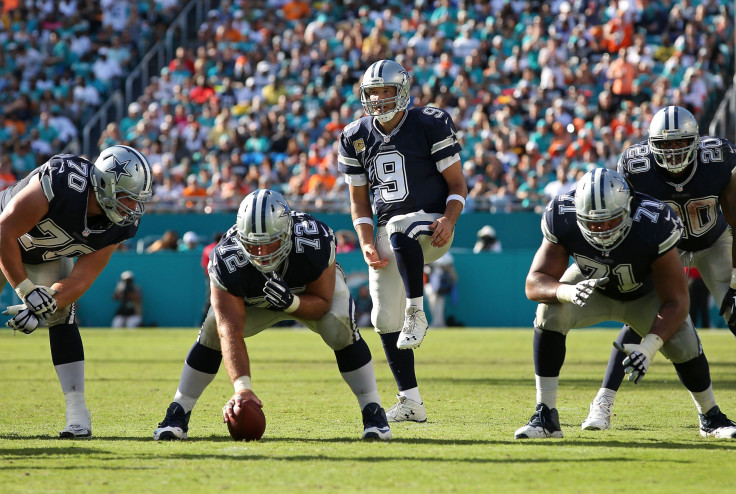 A year after the Dallas Cowboys had their worst season in 26 years, much of the spotlight will be on America's Team. When the complete 2016 NFL schedule was released on April 14, it was revealed that Dallas will face one of the easiest schedules in all of football, and more than a third of their games will be broadcast for the entire country to see.
Opening the 2016 NFL season with a Week 1 contest against the New York Giants, Dallas will face a schedule that is made up of opponents with a combined .465 winning percentage in 2015. Only three teams have an easier schedule than the Cowboys, who will face the AFC North and NFC North in addition to their games within their own division.
Dallas is also set to face the San Francisco 49ers and Tampa Bay Buccaneers. They both finished in last place, combining to win just 11 games last season.
The Cowboys play their first national television game in Week 3 when they host the Chicago Bears on "Sunday Night Football," and six of their final 14 games can be seen by the whole country. Dallas is scheduled to play three games on Sunday night, two on Thursday, and one on Monday night.
From Week 12 through Week 14, the Cowboys will play three straight national TV games. Their Thanksgiving contest against the Washington Redskins is their only national TV game that won't be broadcast in primetime. A week after hosting Washington, Dallas will visit Minnesota on "Thursday Night Football."
The Cowboys will be the first team to play the Rams in their first game back in Los Angeles. The two teams also square off in a nationally televised preseason game on Aug. 13.
Preseason
Saturday, Aug. 13 at Los Angeles Rams, 8 p.m. ET (ESPN)
Friday, Aug. 19 vs. Miami Dolphins, 8 p.m. ET (TBA)
Thursday, Aug. 25 at Seattle Seahawks, 10 p.m. ET (TBA)
Thursday, Sept. 1 vs. Houston Texans, 8 p.m. ET (TBA)
Regular Season
Sunday, Sept.11 vs. New York Giants, 4:25 p.m. ET (FOX)
Sunday, Sept. 18 at Washington Redskins, 1 p.m. ET (FOX)
Sunday, Sept. 25 vs. Chicago Bears, 8:30 p.m. ET (NBC)
Sunday, Oct. 2 at San Francisco 49ers, 4:25 p.m. ET (FOX)
Sunday, Oct. 9 vs. Cincinnati Bengals, 4:25 p.m. ET (CBS)
Sunday, Oct. 16 at Green Bay Packers, 4:25 p.m. ET (FOX)
BYE
Sunday, Oct.30 vs. Philadelphia Eagles, 8:30 p.m. ET (NBC)
Sunday, Nov. 6 at Cleveland Browns, 1 p.m. ET (FOX)
Sunday, Nov. 13 at Pittsburgh Steelers, 4:25 p.m. ET (FOX)
Sunday, Nov. 20 vs. Baltimore Ravens, 1 p.m. ET (CBS)
Thursday, Nov. 24 vs. Washington Redskins, 4:30 p.m. ET (FOX)
Thursday, Dec. 1, at Minnesota Vikings, 8:25 p.m. ET (NBC/NFL Network)
Sunday, Dec. 11 at New York Giants, 8:30 p.m. ET (NBC)
Sunday, Dec. 18 vs. Tampa Bay Buccaneers, 1 p.m. ET (FOX)
Monday, Dec. 26 vs. Detroit Lions, 8:30 p.m. ET (ESPN)
Sunday, Jan. 1 at Philadelphia Eagles, 1 p.m. ET (FOX)
© Copyright IBTimes 2023. All rights reserved.