Davos 2016: South African President Zuma Slammed For Missing Key Panel On Africa At World Economic Forum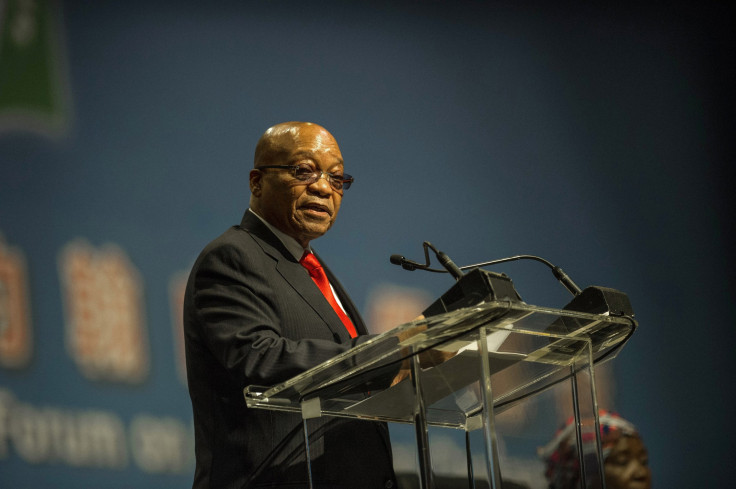 South African President Jacob Zuma missed a key panel on Africa at the World Economic Forum in Davos, raising questions about his commitment to reviving his country's sagging economy. Zuma's office has denied he was a "no-show" for the African country's top showcase Thursday at the annual winter gathering on global politics, economics and social issues, Reuters reported.
South Africa's presidency also dismissed a domestic media report that Zuma withdrew from the CNBC-sponsored Africa panel on short notice, News24, Johannesburg, reported. "This is untrue and very mischievous," Zuma spokesman Bongani Majola said Thursday. "The presidency informed the organizers last week the president would be unable to participate in the debate. The presidency advance team in Davos also continuously informed the organizers that the president would not participate"
South Africa, which is facing an economic crisis, had no representation at the Africa panel. Instead, Zuma attended a meeting with Swedish Prime Minister Stefan Lofven to discuss "warm and strong bilateral relations," Reuters reported.
Zuma, who has no formal education, has long been criticized for his lack of qualifications and understanding to lead a sophisticated emerging market economy. These concerns have deepened in the past year as South Africa reels from a slump in the global price of commodities and an economic slowdown in China.
South Africa's currency, the rand, which is tied to the value of its commodity exports, began to weaken early last year when Beijing missed its economic growth target. The rand has shed 25 percent against the U.S. dollar in the past year. Meanwhile, South African producers of gold, wine and other goods who depend on their Chinese trading partners are suffering from lower import demand.
Unemployment in South Africa still sits above 25 percent and the country's labor relations are largely regarded as some of the worst in the world. The economy narrowly avoided a recession in the third quarter of 2015, posting 0.7 percent annualized growth compared to the previous quarter when it shrank 1.3 percent. Gross domestic product is expected to expand 1.4 percent in 2015, according to the central bank, which would be the slowest pace since the 2009 recession. Meanwhile, credit rating agency Fitch downgraded the country to one notch above "junk" status last month.
Still, Zuma's office maintained Thursday the Davos visit was so far a success, and the president was drumming up interest in the economy.
"The visit to Davos is going very well. South Africa has been received positively. The message that South Africa is open for business is being communicated by the president, ministers and business leaders in all sessions in Davos," News24 quoted Majola as saying.
© Copyright IBTimes 2023. All rights reserved.