Dean Smith, Legendary North Carolina Coach, Dies At 83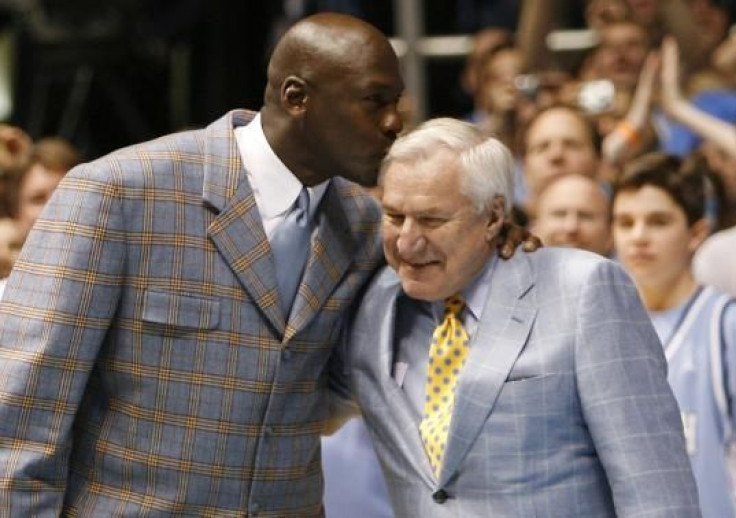 Dean Smith, the legendary NCAA basketball coach, died Saturday night, the University of North Carolina at Chapel Hill reported. Smith was 83 years old.
Smith coached North Carolina from 1961 to 1997, winning national championships in 1982 and 1993. When he retired, he was the winningest coach in college basketball, recording more wins than any other Division I men's coach in history. Smith coached future NBA Hall of Fame players Michael Jordan, James Worthy, Bob McAdoo and Billy Cunningham during his time leading the Tar Heels.
"Coach Dean Smith passed away peacefully the evening of February 7 at his home in Chapel Hill, and surrounded by his wife and five children," the Smith family said in a statement posted on the university's website. "We are grateful for all the thoughts and prayers, and appreciate the continued respect for our privacy as arrangements are made available to the public. Thank you."
Smith had health issues in recent years, with his family saying in 2010 he had a condition that was causing him to lose his memory, according to ESPN.
In addition to his two NCAA national titles and 11 Final Four appearances, Smith won 13 Atlantic Coast Conference tournament titles and a National Invitation Tournament championship. He also directed the U.S. Olympic Team to a gold medal at the 1976 Summer Games. In 36 seasons at UNC, Smith's teams had a record of 879 wins and 254 losses.
ESPN's "SportsCentury" program selected Smith as one of the seven greatest coaches of the 20th century. He was known for stressing academics among his players.
UNC's current men's basketball coach Roy Williams called Smith "the greatest there ever was on the court but far, far better off the court with people.
"I'd like to say on behalf of all our players and coaches, past and present, that Dean Smith was the perfect picture of what a college basketball coach should have been," Williams, who spent 10 years as Smith's assistant, said in a statement. "We love him, and we will miss him."
© Copyright IBTimes 2023. All rights reserved.