Death Penalty In The US: 2014 Sees Fewest Executions In 20 Years After Outcry Over Botched Injections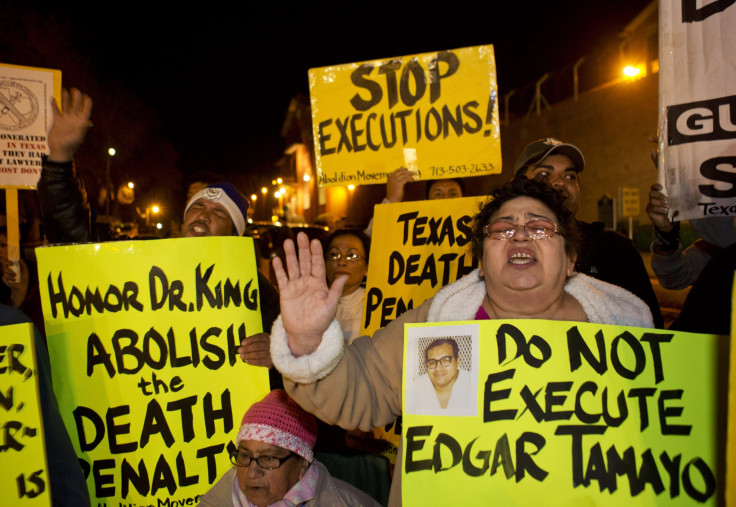 Americans are changing their opinions on the death penalty, and the statistics reflect it. The number of United States' executions in 2014 was the lowest in 20 years, and death sentences were the lowest in 40, according to the Death Penalty Information Center's annual report released Thursday. Seven states executed 35 people in 2014, a 10 percent drop from 39 in 2013, and the latest point in an overall decline from 98 executions in 1999.
This year, Missouri and Texas killed the most inmates, with 10 executions each. Florida, with eight, came in at No. 2. Those three states accounted for 80 percent of the overall executions.
Death sentences slid in popularity, as well. At 14, California sentenced the most people to death this year, followed by Florida and Texas with 11. This shift could be connected to wavering public sentiment after high-profile botched lethal injections, according to a press release from the center. In Oklahoma, Ohio and Arizona, dying inmates reportedly gasped, snorted and writhed after receiving controversial drug cocktails, the Washington Post reported.
The U.S. also saw the most exonerations in five years, with seven inmates being cleared after new evidence and legal motions. Overall death row numbers decreased, as well. In October, 3,035 inmates were waiting for executions. Ten years ago, 3,471 were.
"The relevancy of the death penalty in our criminal justice system is seriously in question when 43 out of our 50 states do not apply the ultimate sanction," the report's author, Richard Dieter, said in the release. "The U.S. will likely continue with some executions in the years ahead, but the rationale for such sporadic use is far from clear."
The report aligns with Gallup poll data that shows a slight decline in Americans' approval of the death penalty. In October, 63 percent of respondents said they were in favor of executions for convicted murderers -- a drop of 17 percentage points from 1994.
© Copyright IBTimes 2023. All rights reserved.
FOLLOW MORE IBT NEWS ON THE BELOW CHANNELS