Delhi Gang-Rape: Right-Wing Leader Claims Sex Crimes Caused By Western Influences, Urban Living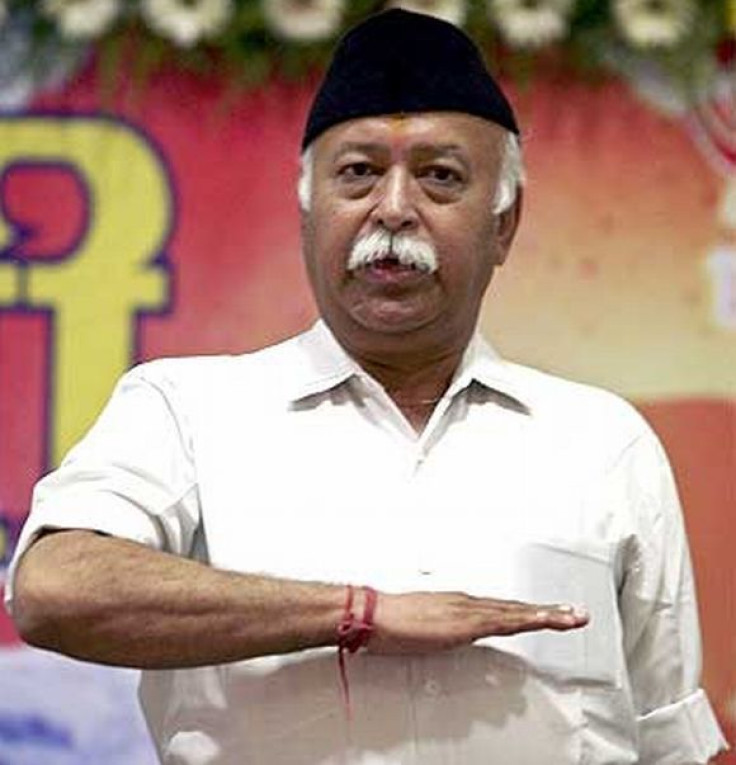 The historic anti-rape protests sweeping across India have provided women and other progressive activists with a unified voice against the subcontinent's deeply entrenched patriarchal views against females.
However, this ongoing saga has also prompted male reactionaries and other right-wing conservatives to reassert and reinforce those very same aforementioned views on the relations between the sexes.
One of the most prominent reactionary voices in India likely belongs to Mohan Bhagwat, the head of Rashtriya Swayamsevak Sangh, or RSS, a right-wing, Hindu nationalist paramilitary organization that, among other things, seeks to impose Hindu supremacy in India, reduce or eliminate the influence of Islam in the nation and restore traditional values.
Bhagwat, as a vociferous proponent of these platforms, has taken the tragic rape-murder of the 23-year-old medical student on a Delhi bus to promote his agenda.
"Women [are] meant to do household chores," the RSS chief bellowed recently at a rally in the town of Indore, in Madhya Pradesh, according to the NDTV network.
"[In the] theory of social contract, a husband and wife are bound by a contract which says 'you [the woman] look after the household chores and satisfy me, I [the man] will take care of your needs and will protect you,' and until she delivers her duties without fail, he keeps her on the contract, and if she fails to honor the contract, he disowns her, and, if it is the same with the husband who is not honoring the contract, she can also abandon him and go for a new contract then. ... This system is also good for society and ensure proper order in society."
On the prior day, Bhagwat echoed the opinion of many older, conservative Indians (of all faiths) when he proposed that the spiraling number of rapes in the land are the direct result of corrosive Western cultural and behavioral influences.
Speaking in Assam before RSS members on Friday, Bhagwat suggested that rape only occurs in "urban" centers in India, which have been overly westernized, not in the rural heartland, which he describes as Bharat, the traditional name for India.
"Crimes against women happening in urban India are shameful," he stated.
"It is a dangerous trend. But such crimes won't happen in Bharat or the rural areas of the country. You go to villages and forests of the country, and there will be no such incidents of gang rape or sex crimes. They are prevalent in some urban belts. Besides new legislations, [the] Indian ethos and attitude toward women should be revisited in the context of ancient Indian values.
"Where Bharat becomes India with the influence of Western culture, these [types] of incidents happen. The actual Indian values and culture should be established at every stratum of society where women are treated as 'mother.'"
Predictably, Bhagwat's comments were condemned by many other political factions
Brinda Karat, the chief of the Communist Party of India (Marxist) CPI(M) and member of the Rajya Sabha (upper house of the Parliament), blasted Bhagwat.
"I don't think it is really surprising, because, at the end of the day, this is what [the] RSS is," she said.
"That is why I think it is the retrograde samiti [club or association] of India. These were the regents who, when BJP [right-wing opposition Bharatiya Janata Party] was in power, wanted a new Constitution of India based on manusmriti [ancient laws of Manu, similar to the Ten Commandments]. So when he talks in this language, he only reflects his ideology."
Mamta Sharma, the chief of the National Commission of Women, or NCW, also attacked Bhagwat.
"We are all Indians. We are all citizens of India. ... Go to [the] grassroots level, and see what is the condition of the women there," she said.
Naturally, the RSS defended its leader's discourse, asserting his views were twisted and misinterpreted.
"It is totally falsifying his views. [Bhagwat] said the Western marriage system is contractual where a man and a woman consider marriage as a contract, whereas he also went on to say that Indian marriage system is a very sacred institution," RSS spokesperson Ram Madhav said.
"In this [Indian system], the woman has a place of great respect, and the man has certain obligations toward the family, and the way the whole thing was projected was as though Bhagwat was calling Indian marriage contractual. This is [a] total distortion of what he has said."
The RSS is closely linked with the principal opposition party, the right-wing nationalist (but mainstream) Bharatiya Janata Party, or BJP.
BJP has not yet criticized Bhagwat's remarks but did take exception with some who savaged the RSS leader.
Shivanand Tiwari, the general-secretary and spokesperson of the Janata Dal (United) party, or JD(U), equated Bhagwat with Akbaruddin Owaisi, the controversial leader of the Islamist All India Majlis-e-Ittehadul Muslimeen, or MIM, party who has a history of spewing hate speech and making death threats.
Tiwari declared that Bhagwat and Owaisi are "two sides of the same coin," eliciting outrage from both BJP and the RSS, according to the Hindu newspaper.
"One provokes Hindus against Muslims, and the other instigates Muslims against Hindus," Tiwari said.
"It is a primitive mindset. They are reviving the past. The philosophy of his organization [RSS] is that a lower caste person should be punished for sitting with an upper caste one and molten glass should be poured in his ears if he [the lower-caste person] hears Sanskrit [language of ancient India]."
Tiwari even dragged Narendra Modi, the controversial chief minister of Gujarat who some believe allowed Hindus to riot against and kill Muslims in 2002, into this saga.
"We would like to ask Narendra Modi also, as he is also an RSS product," Tiwari said. "We want to know whether Narendra Modi also supports Bhagwat's thoughts on women, Dalits, people from lower castes and minorities?"
In a vitriolic response, the BJP's chief spokesperson, Ravi Shankar Prasad, said, "We condemn the totally unwarranted, baseless and undignified comments made by Shivanand Tiwari against the RSS chief. His observations linking Bhagwat to Owaisi is not only reprehensible, but highly condemnable."
Another top BJP official named Uma Bharti poured further scorn on Tiwari.
"Only somebody who has lost his mind can compare the RSS chief and Owaisi," she said. "I pity such people."
Indresh Kumar, a senior RSS member, delineated the differences between Bhagwat and Owaisi.
"Bhagwat is a patriot, while Owaisi is a traitor who has justified terrorism and violence," Kumar vented. "The mental treatment of those who have made these comments is very necessary. They should get cured. I will pray that they get cured."
Another RSS critic even compared the group with the Taliban and accused them of hypocrisy.
"If the RSS was so fond of Indian culture, then why do its [members] wear shorts, which are of Western origin? It would be much better if they start wearing the Indian dhoti [traditional Indian garment]," Digvijaya Singh, the general secretary of the ruling Congress Party, said to reporters Sunday.
"I am saying this, because both are fundamentalist in nature, and they want to take us back to the 18th century. ... Only fundamentalists want to prescribe a dress code for women, and by doing this they want to hide their own misbehavior."
© Copyright IBTimes 2022. All rights reserved.
FOLLOW MORE IBT NEWS ON THE BELOW CHANNELS