Democrats Seek To Let All Tax Cuts Expire, Putting Republicans On the Spot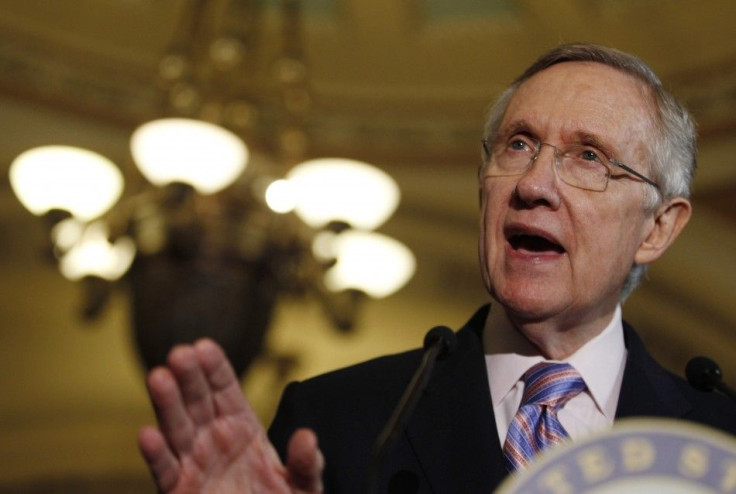 Seeking to avoid another extension of Bush-era tax cuts for the nation's top earners, Senate Democrats are planning to let tax breaks expire for all Americans and then implement a separate tax cut for middle-class people.
The maneuver would allow Democrats to end reduced tax rates for the rich -- long a priority as the party looks to spread the pain of deficit reduction -- without forcing Republicans to renege on a vow to never vote for a tax increase.
The anti-tax pledge circulated by Grover Norquist's Americans for Tax Reform has become a key stumbling block as the two parties seek a fiscal compromise. Almost every Republican has taken the pledge to never raise taxes, a stance that was irreconcilable during last summer's debt ceiling negotiations with Democratic insistence that new tax revenue be part of a deficit reduction plan.
That impasse helped lead to the current situation, in which a massive year-end confluence of spending cuts and tax increases, popularly known as Taxmageddon, threatens to upend the economy. In addition to the looming expiration of the Bush tax cuts, the first round of deep reductions in domestic and defense spending is set to kick in.
Both parties are trying to use the situation to their advantage. Democrats voted to extend the Bush tax cuts in 2010 in exchange for Republicans agreeing to a payroll tax holiday, a deal that many Democrats criticized. Taxmageddon may offer more leverage.
Many Republicans are starting to realize something important: On Jan. 1, if we haven't gotten to a deal, Grover Norquist and his pledge are no longer relevant to this conversation, Democratic Senator Patty Murray said this week in a speech to the Brookings Institution.
If we can't get a good deal - a balanced deal that calls on the wealthy to pay their fair share - then I will absolutely continue this debate into 2013 rather than lock in a long-term deal this year that throws middle-class families under the bus, Murray added.
Democrats want to allow taxes to rise for families earning more than $250,000, reprising a theme of economic fairness that has animated President Obama's re-election campaign. But Republicans are accusing them of endangering a fragile economic recovery for political gain.
Democrats in Congress are now saying that they would rather see taxes go up on every American at the end of the year than let about a million businesses keep what they earn now, Senate Minority Leader Mitch McConnell said Tuesday. This isn't an economic agenda. It's an ideological crusade.
That argument is bolstered by economists' warnings of the United States careening towards the edge of a fiscal cliff. The Congressional Budget Office warned in May that if Congress did nothing to soften the blow of tax increases and spending cuts, the nation would likely fall into another recession. Federal Reserve Chairman Ben Bernanke renewed that warning on Tuesday.
I think just delaying everything, just saying we're not going to do it, put it off for another year, I think would be a very bad outcome, Bernanke said in testimony to the Senate Banking Committee, adding that striking a deal sooner would help reduce uncertainty and boost household and business confidence.
© Copyright IBTimes 2023. All rights reserved.
FOLLOW MORE IBT NEWS ON THE BELOW CHANNELS