Denver Broncos News: Peyton Manning Makes Eric Decker Top Fantasy Wide Receiver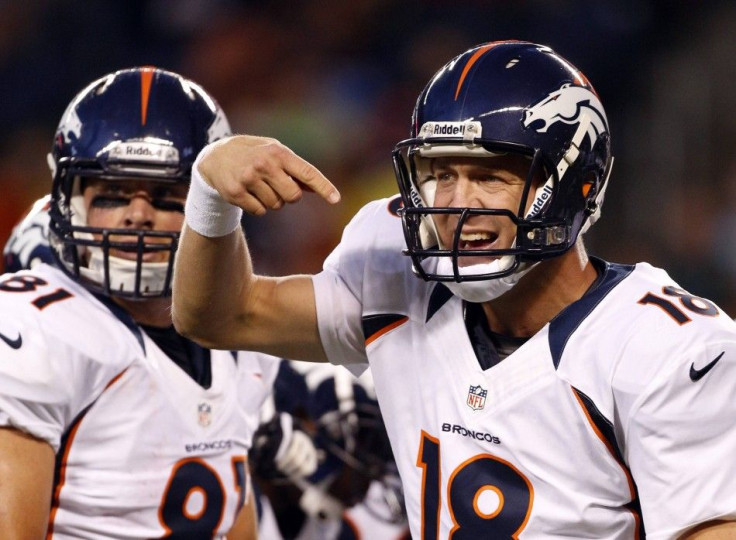 Future Hall of Fame quarterback Petyon Manning's arrival could make Denver Broncos wide receiver Erick Decker an under-the-radar fantasy league player in the 2012 season.
With the evolution of the new Denver offense, led by four-time MVP Manning, the Broncos will likely be airing it out more than 2011, and Decker could be a main target
Depending on the size of your roster, Decker could be a valuable addition at your flex spot or a top No. 2 receiver in most leagues.
His production was limited last season as quarterback Tim Tebow relied on his feet, and had the lowest completion rating of any starting quarterback at 45.5 percent, throwing the ball 271 times in 11 games.
Things will change with Manning as both the starting quarterback and arguably the new offensive coordinator. The Denver offense will have a whole new look and a new set of expectations.
In 2010, the last season Manning played before undergoing neck surgery, he threw 679 passes and completed 450 for a 66.3 percent completion rating. In his 14 active years, he has 12 seasons of throwing 4,000 yards and at least 25 touchdowns.
Coupled with his proven abilities under center, Manning also has a reputation for turning many of his receivers into fantasy studs. Over the course of his career, he has essentially made stars out of players like Reggie Wayne, Dallas Clark, Austin Collie, Anthony Gonzalez, and Pierre Garcon.
Decker will welcome the change and with good reason. The 25-year-old receiver was elated at learning of Manning's arrival.
"I was excited," Decker told NFL.com. "I can't tell you, I guess, the feelings I had. It was like I was a little kid on Christmas morning. I was more excited for the opportunity to play with one of the best in the league and have a chance to really jump-start my career."
Drafted in 2010 in the third round by ex-head coach Josh McDaniels, Decker has been praised for his potential. In 2011, he was the most productive receiver for Denver despite being forced into a run-heavy offense. He finished the season with 612 receiving yards and eight touchdowns.
Decker has already gotten off to a good start. In Denver's Week 3 preseason loss to San Francisco, he was targeted seven times in the first half and caught two touchdown passes for 38 yards.
Manning and Decker already appear to be in sync on short, quick passing schemes. Similar to New England Patriots wide receiver Wes Welker, Decker is not a long-ball threat, but more of a utility receiver that will most likely run many hitch and in-routes for short yardage. This should increase his value in PPR leagues, as he'll rack up points for catches and yards.
Expect him to catch at least 60 or more balls for close to 1,000 yards. Since he is so quick off the line of scrimmage, he will likely become a major target in the red zone for Manning, so his touchdown total should rise as well.
Manning's long-awaited return to action and Decker's first opportunity to truly shine starts on Sunday. The Broncos face the Pittsburgh Steelers in Denver, and the duo will likely test their opponent's secondary early and often.
© Copyright IBTimes 2023. All rights reserved.