Derailed Train In Spain Was Going At Double The Speed Limit; Human Error Or Technical Fault Probed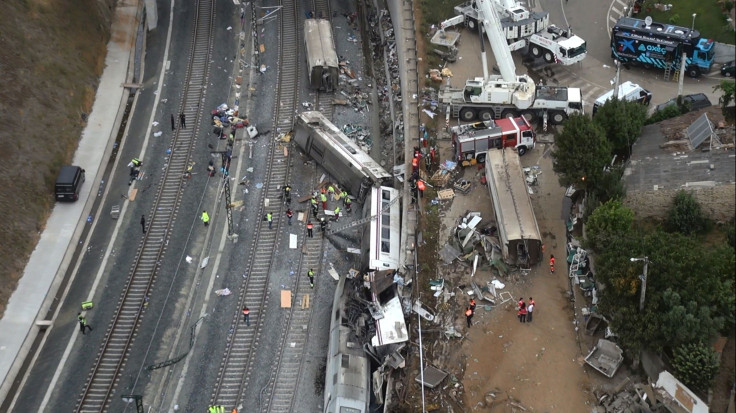 One of the drivers of the train that derailed Wednesday in Galicia, a region of northern Spain, killing at least 80 people had a conversation with a station agent minutes before the accident, in which he admitted he was going at double the permitted speed. "I am driving at 190 kilometers (120 miles) per hour!" he said, when the maximum allowed in that section of track is 80 kilometers (60 miles) per hour.
The driver did not specify why he was traveling so fast. Spanish newspaper El Pais explains that the investigation will have to find out if the reason behind the speeding was a technical failure or a human error. According to the report, the train was proceeding on a straight, dedicated high-speed rail line, which then turns into a standard-speed track, and then reached the tight turn where it derailed without slowing down in time.
The turn is the first in the train line between Madrid and Ferrol, in northwest Spain. According to local newspaper La Voz de Galicia, the turn is well known by regular travelers on the line, as it generally makes the train jump and it is not unusual for people who happen to be standing to lose their balance.
This train line is not compliant with the European Rail Traffic Management System (ERTMS), an automated system that prevents trains from surpassing the maximum speed allowed. The system has been installed on only a few lines in Spain.
The number of fatalities reached 80 as of Thursday morning, and 130 have been hospitalized, 20 of whom in critical condition, including five Americans. Some of the victims are yet to be identified, and an official list with the names of the affected is expected to be published at 10 p.m. local time (4 p.m. EDT).
The driver, who got trapped in the wreckage and suffered injuries in his back and legs, will be called to testify in the investigation.
The accident occurred in the eve of St. James' Day, the biggest celebration in Galicia. The local government has canceled all festivities in mourning for the victims of the deadliest railroad accident in the country's history.
© Copyright IBTimes 2023. All rights reserved.