Derek Fisher Net Worth As Ex-NBA Player Arrested For DUI After Flipping Car With Gloria Govan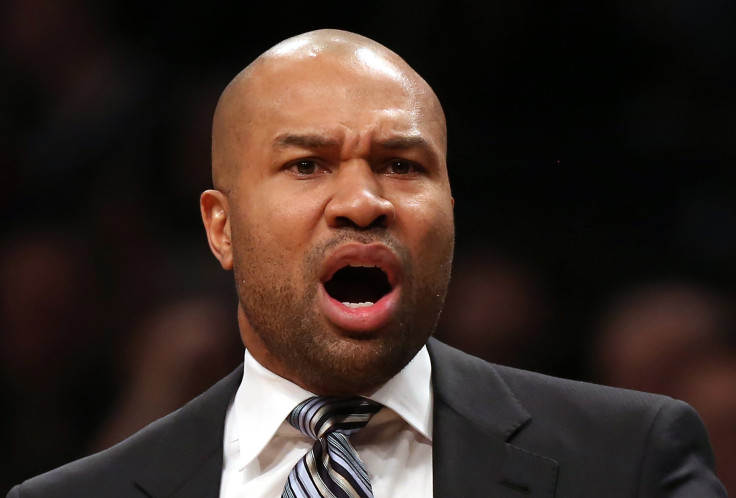 Derek Fisher, the longtime Los Angeles Lakers player and ex-New York Knicks head coach, was arrested Sunday on suspicion of driving under influence after his car flipped on the 101 Freeway at Catch in West Hollywood. Former "Basketball Wives" star Gloria Govan was with Fisher in the vehicle at the time of the crash, but both were uninjured.
"On behalf of Derek Fisher and Gloria Govan, they would like to thank everyone for their thoughts and prayers. They are beyond grateful that they are both okay and that no one else was involved. Both Derek and Gloria are home and ask that you respect their privacy," a representative for Fisher and Govan told TMZ Sports.
Read: Did The Knicks Hire Derek Fisher To Lure Kevin Durant To New York In 2016?
The California Highway Patrol (CHP) said in a statement that the 42-year-old was driving northbound on the 101 freeway through Sherman Oaks when he veered to the right and onto the paved right shoulder and then his 2015 Cadillac collided with the raised concrete curb and guardrail, and flipped over. The CHP noted that there were "no injuries noted or claimed" at the time of the accident.
"During the collision investigation, it was discovered that Party #1 [Fisher] had been drinking. A DUI evaluation was conducted and Party #1 was subsequently arrested for DUI without incident," the report of collision documents stated.
Fisher, who officially joined the National Basketball Association in 1996, has an estimated net worth of $40 million and he made most of his fortune during the five years with New York Knicks as head coach. He was fired by his former coach and Knicks President of Basketball Operations Phil Jackson last February.
Watch Fisher's crash video here, courtesy TMZ.
Fisher, who was previously married to Candace Fisher, has been reportedly dating Govan since October 2015 but confirmed their relationship March this year, according to TMZ.
Fisher and Candace were married for 10 years before they split a month after their 10th anniversary in 2015. The former couple got involved in a divorce battle last year but tensions between the two ended after Fisher agreed to spousal and child support. Fisher paid $15,000 a month in child support for their 9-year-old twins, Marshall and Chloe. He also reportedly agreed to pay his ex-wife $109,000 a month in spousal support, which equates to $1.3 million a year.
After his split, Fisher started dating Govan, who was married to former Lakers player Matt Barnes till 2016. Fisher and Barnes were involved in a physical dispute that ended with the latter, who at the time was for Memphis, being suspended for two games.
The feud took place after Barnes reportedly drove to Los Angeles and found Fisher with his estranged wife at her home. Barnes told ESPN that he went to Govan's home to check on his 6-year-old twin sons after receiving text messages and using FaceTime with his sons and sensing they were uncomfortable.
"I don't know what was going through Matt's mind that day in October when he showed up unannounced at Gloria's house, and started swinging," Fisher wrote last year. "I didn't retaliate. No one who was there did anything but try to get him to calm down, particularly because Matt and Gloria's children were present. There was no fight. That's it. There's nothing more to what happened than that."
© Copyright IBTimes 2023. All rights reserved.