Deshaun Watson About To Make Cleveland Browns' Debut Amid Suspension
Deshaun Watson's suspension isn't expected to prevent him from playing in the preseason. The Cleveland Browns announced that the quarterback will start Friday night in their exhibition matchup against the Jacksonville Jaguars.
Former federal judge Sue. L Robinson ruled that Watson should be suspended six regular season games for violating the league's personal conduct policy. The NFL has appealed that ruling, seeking a year-long suspension for Watson's alleged sexual assault and misconduct against multiple massage therapists.
Former New Jersey Attorney General Peter C. Harvey will rule on the appeal. Watson's suspension won't be any shorter than six games. As long as the suspension isn't extended to a full season, Watson will remain eligible to play in the preseason.
If Harvey issues Watson a season-long suspension before Friday's game, Watson won't be eligible to play against the Jaguars.
"We've seen the evidence," NFL Commissioner Roger Goodell told reporters after Tuesday's Special League Meeting in Minneapolis. "[Disciplinary officer Robinson] was very clear about the evidence, should we enforce the evidence. That there was multiple violations here, and they were egregious, and it was predatory behavior. Those are things that we always felt were important for us to address in a way that's responsible."
The preseason contest between the Browns and Jaguars is scheduled to kick off at 7 p.m. ET Friday. Cleveland will host the Philadelphia Eagles on Aug. 21 in Week 2 of the preseason. The Browns' third and final preseason game is scheduled for Aug. 27 against the Chicago Bears.
Watson sat out the entire 2021 season with the Houston Texans. When he last played in 2020, Watson led all players with 4,823 passing yards. Watson was selected to the Pro Bowl each year from 2018-2020.
There has been speculation that Watson's suspension could be increased to at least 12 games. Before Robinson made her ruling, Watson reportedly rejected a settlement that would've included a 12-game suspension and a fine of at least $8 million.
Watson's six-game suspension doesn't include a fine. Unless Watson's suspension is extended to a year, he'll likely lose less than $1 million in salary for the games that he misses. The Browns inked Watson to a five-year, fully guaranteed contract worth $230 million.
Jacoby Brissett is expected to be the Browns' starting quarterback for games that Watson misses due to his suspension.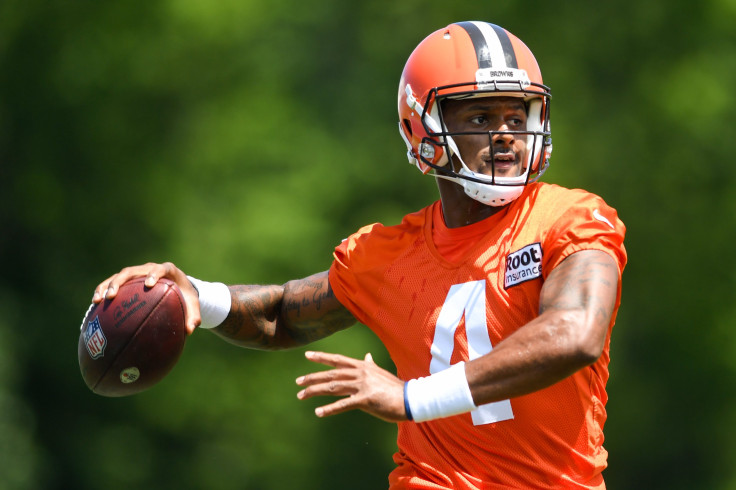 © Copyright IBTimes 2022. All rights reserved.
FOLLOW MORE IBT NEWS ON THE BELOW CHANNELS