Deshaun Watson Suspension: How Much Money Will The Browns QB Lose For Missing Six Games?
Cleveland Browns quarterback Deshaun Watson has received a six-game suspension for violating the league's personal-conduct policy, according to multiple reports, after more than two dozen women filed civil suits against him for sexual misconduct and assault.
The decision comes from former U.S. District Judge Sue L. Robinson, who was appointed by the NFL and NFLPA to hear Watson's case over the course of three days in late June. The NFL has three days to appeal the ruling.
If the ruling stands, Watson's suspension will only cost him $345,000, even though he signed a new five-year, $230 million extension in the offseason. The contract includes a $1.035 million salary for this year.
Cleveland structured the deal so that $44.965 million of the $46 million that Watson is owed for the 2022 NFL season will be paid in the form of a signing bonus. There is no additional fine included in Robinson's ruling.
In negotiations between the NFL and NFLPA on a possible settlement in the case, the league offered Watson a 12-game suspension and a fine in the range of $8 million, ESPN reports. Watson's representatives weren't willing to settle for a suspension north of eight games.
Watson sat out the entire 2021 NFL season amid the allegations against him. The quarterback was eligible to play in his final season with the Houston Texans but the team opted to bench him.
Houston traded Watson to Cleveland for five draft picks, including three first-rounders, after a grand jury in Harris County, Texas declined to bring criminal charges against the quarterback.
Shortly before Watson's hearing with the NFL, it was announced that 20 of the 24 civil suits against the quarterback had been settled. Watson agreed to settlements with three more of his accusers Monday, according to the lawyer representing the women.
The ruling stipulates that Watson is allowed to practice with the Browns in the preseason and again starting in Week 4 of the regular season. A six-game suspension would make Watson eligible to start his first game for Cleveland on Oct. 23 against the Baltimore Ravens.
Watson has earned $51.395 million in the first five years of his NFL career.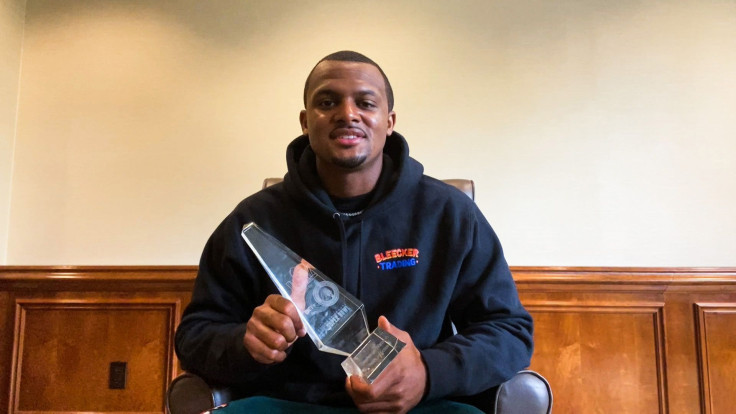 © Copyright IBTimes 2023. All rights reserved.