Did Krewella Breakup? Yousaf Sisters Reportedly Conspired To Remove Sober Kris 'Rain Man' Trindl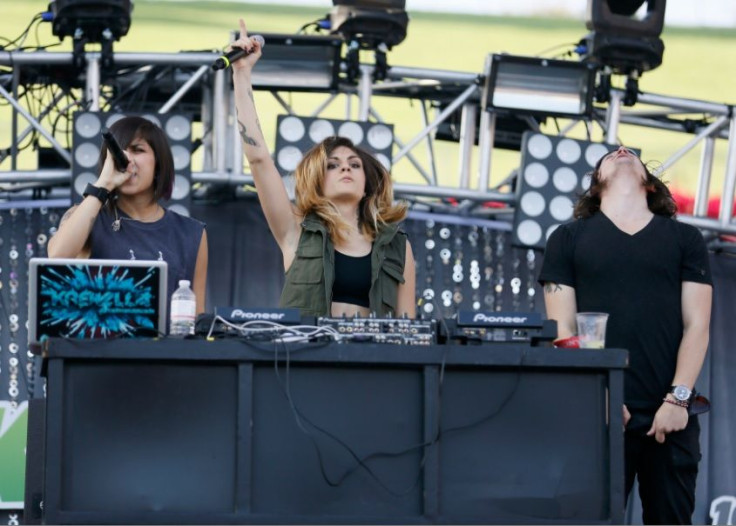 Krewella, a Popular Electronic Dance Music group, is facing some legal drama. Former member Kris Trindl is suing Jahan and Yasmine Yousaf for at least $5 million, the Hollywood Reporter wrote Tuesday. Trindl claims that the Yousaf sisters didn't appreciate his decision to stop partying following his entry into rehab for alcoholism and that they schemed to get him out of the group.
Trindl, who is also known as "Rain Man," admitted he relapsed twice and missed a major event, the Electric Daisy Carnival, TMZ reported. He claimed that the sisters put up a billboard of just the two of them on the Sunset Strip.
Trindl alleges that when he came back from rehab, the Yousaf sisters didn't like the new, sober person he had become. They even staged an intervention after he was sober because they thought he was depressed and needed help, he said, according to TMZ.
Trindl said it's evident why the Yousaf sisters don't want him in Krewella: They want his one-third of the groups's earnings.
"… The Yousaf sisters and others conspired to remove Kris from the group altogether," the lawsuit says, according to THR. "Now that the band was successful, they figured they could always hire outside people to write and produce music for far less money than it would cost to continue splitting their income equally with Kris, as they have done [one-third to each member]."
The sisters on Tuesday posted a response on social media, where they said there is much more to the story. "We woke up this morning to the lawsuit Kris filed against us. As you all know, there are two sides to every story," they wrote on the Krewella Tumblr page.
"We ask our fans to please be patient and not come to any conclusions until we are able to respond to the lawsuit with the truth. Our team has advised that we don't get into any specifics until we can properly respond to the false claims made -- most importantly being that we did not kick Kris out of Krewella, he resigned.
"We're having a really difficult time today. As we write this letter to you, we are in the studio working on the second album. Please hang in there with us, the truth will eventually come out. Thank you for being so supportive, we love you guys. Love, Y & J"
The group, founded in Chicago, is best known for the hit "Alive," which has more than 34 million hits on YouTube. Krewella has been together since 2007.
Follow me on Twitter @mariamzzarella
© Copyright IBTimes 2023. All rights reserved.
FOLLOW MORE IBT NEWS ON THE BELOW CHANNELS