Did North Korea Really Detonate A Hydrogen Bomb? Live Updates On Nuclear Test Claims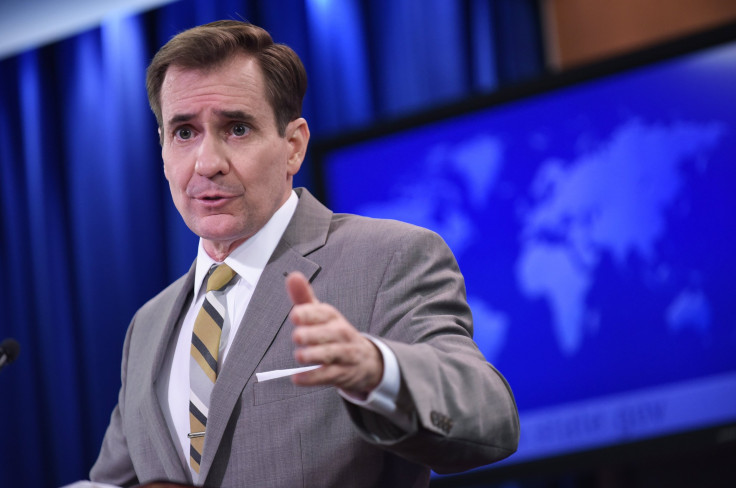 UPDATE: 2:51 p.m. EST — After condemning North Korea's apparent testing of a hydrogen bomb, the State Department issued a harsh rebuke of the country's nuclear efforts, further denouncing the "highly provocative act that poses a grave threat to international peace and security."
The full statement follows from Ambassador Samantha Power, of the U.S. Mission to the United Nations for the U.S. Department of State, follows below:
Today, the UN Security Council met to discuss the nuclear test carried out by North Korea – a highly provocative act that poses a grave threat to international peace and security. The test constitutes yet another violation of the DPRK's obligations under multiple Security Council resolutions, contravenes the DPRK's commitments under the September 2005 Joint Statement of the Six-Party Talks, and increases the risk of the proliferation of weapons of mass destruction.

North Korea is the only country in the world that has tested a nuclear weapon in the 21st century – not once, but, with yesterday's test, four times. It is also the only country in the world that routinely threatens other U.N. member states with nuclear attacks. And the test is just the latest of a series of violations we have witnessed in recent months, including artillery barrages and landmine attacks. These actions threaten the security of all of our nations.

The international community must impose real consequences for the regime's destabilizing actions, and respond with steadily increasing pressure. The Security Council has a key role to play in holding North Korea accountable by imposing a tough, comprehensive, and credible package of new sanctions, and by ensuring rigorous enforcement of the resolutions it has already adopted. The Security Council's commitment today to impose "further significant measures" in a new resolution marks an important step in that process.

North Korea has increasingly isolated itself and impoverished its people through its reckless pursuit of weapons of mass destruction. The United States remains fully committed to the peaceful denuclearization of the Korean peninsula. We will take all actions necessary to protect our security, defend our allies, and promote regional stability.
UPDATE: 1:55 p.m. EST — White House spokesman Josh Earnest told reporters Wednesday afternoon that preliminary information was "not consistent with North Korean claims of a successful hydrogen bomb test."
After South Korea reported a magnitude 5.1 artificial earthquake Wednesday, North Korean officials announced they had conducted a nuclear test. If true, the incident was the country's fourth such test since 2006, Reuters reported.
UPDATE: 12:55 p.m. EST — An international nuclear organization said the magnitude of the seismic event detected in North Korea Wednesday was lower than a similar one in 2013 despite claims from the North Korean government that it had detonated its first hydrogen bomb. The Comprehensive Nuclear-Test-Ban Treaty Organization in Vienna said the seismic event in North Korea appeared to have been a "slight down in terms of magnitude" compared with a 2013 weapons test in North Korea. CTBTO Executive Secretary Lassina Zerbo said early information indicated a magnitude of 4.8 to 4.9 Wednesday, compared with 5.1 in 2013.
UPDATE: 12:20 p.m. EST — Democratic presidential front-runner and former Secretary of State Hillary Clinton blasted North Korea's nuclear test Wednesday and said the U.S. should not give in to the reclusive nation's "bullying." Below is her full statement:
"I strongly condemn North Korea's apparent nuclear test. If verified, this is a provocative and dangerous act, and North Korea must have no doubt that we will take whatever steps are necessary to defend ourselves and our treaty allies South Korea and Japan. North Korea's goal is to blackmail the world into easing the pressure on its rogue regime. We can't give in to or in any way encourage this kind of bullying. Instead, we should increase pressure and send Pyongyang an unmistakable message that its nuclear brinksmanship won't succeed.
"The United States and our partners, including the U.N. Security Council, need to immediately impose additional sanctions against North Korea. The Chinese government, which wields influence with the North Koreans, must be more assertive in deterring the North's irresponsible actions, and it should take actions to halt prohibited activities transpiring across its borders, or its firms that participate in illicit trade or proliferation will have to face sanctions. We should also work with our allies to strengthen our missile defenses.
"As secretary I championed the United States' pivot to the Asia Pacific — including shifting additional military assets to the theater — in part to confront threats like North Korea and to support our allies. I worked to get not just our allies but also Russia and China on board for the strongest sanctions yet.
"North Korea's nuclear and missile tests, its human rights record, the cyberhack of Sony this past December — highlight the continuing threat that North Korea poses.
"And threats like this are yet another reminder of what's at stake in this election. We cannot afford reckless, imprudent publicity stunts that risk war. We need a commander-in-chief with the experience and judgement to deal with a dangerous North Korea on Day One."
UPDATE: 11:30 a.m. EST — U.S. Sen. Ben Cardin, D-Md., said he will introduce legislation to impose additional sanctions on North Korea after its hydrogen bomb test. He is the top Democrat on the Senate Foreign Relations Committee. The U.S. has imposed various financial sanctions against North Korea over its weapons program in recent years.
UPDATE: 11:11 a.m. EST — British Foreign Secretary Philip Hammond met with his Chinese counterpart Tuesday in Beijing to discuss North Korea. He said he had concerns after the reclusive country claimed Wednesday it had detonated a hydrogen bomb. "If a nuclear device has been detonated by North Korea, this is a grave breach of U.N. Security Council resolutions and a provocation which I condemn without reservation," he said.
UPDATE: 10:41 a.m. EST — U.N. Secretary-General Ban Ki-moon called for North Korea to cease "any further nuclear activities" Wednesday prior to meeting with senior advisers about North Korea's alleged hydrogen bomb test. Moon was expected to make remarks prior to the emergency meeting of the U.N. Security Council that was called for by Japan and the U.S. The meeting is expected to begin around 11 a.m. EST and will be held behind closed doors.
UPDATE: 10:05 a.m. EST — While outside experts remained skeptical of North Korea's nuclear test claim, the announcement was welcomed with nationalistic pride in the North Korean capital. Pyongyang resident Kim Sok Chol, 32, told the Associated Press he doesn't know a lot about hydrogen bombs, but said: "Since we have it the U.S. will not attack us."
A university student in the capital also viewed the announcement as true, saying North Korea's nuclear capabilities have protected the Asian country from Western powers. "If we didn't have powerful nuclear weapons, we would already have been turned into the slaves of the U.S.," Ri Sol Yong, 22, told the AP Wednesday.
UPDATE: 8:55 a.m. EST — Business mogul and Republican presidential front-runner Donald Trump said Wednesday that the U.S. should review its trade policy with China if it doesn't take steps to rein in North Korea. The latter announced Tuesday it had successfully tested a hydrogen nuclear device.
"China has total control," Trump said on Fox News. "They have total control over North Korea, and China should solve that problem. And if they don't solve the problem, we should make trade very difficult for China."
UPDATE: 8:30 a.m. EST — Republican presidential candidates are blaming President Barack Obama and his former secretary of state, Democratic front-runner Hillary Clinton, for North Korea's efforts to build a nuclear weapon. U.S. Sen. Marco Rubio, R-Fla., said North Korea's reported testing of a hydrogen bomb was a sign of Obama's weakness.
"I have been warning throughout this campaign that North Korea is run by a lunatic who has been expanding his nuclear arsenal while President Obama has stood idly by," the GOP presidential candidate said in a statement Tuesday.
Others linked the alleged bomb testing to Clinton. "North Korea is yet another Hillary Clinton foreign policy failure. America cannot lead from behind," Carly Fiorina, another GOP candidate, tweeted Wednesday morning.
UPDATE 7:52 a.m. EST — The International Atomic Energy Agency (IAEA), a global organization of 167 member states that aims to promote the peaceful use of nuclear energy, said Wednesday North Korea did successfully conduct its fourth nuclear test, according to Sky News' defense correspondent. The Democratic People's Republic of Korea​ is not a member state of the IAEA.
Original story:
Hours after North Korea claimed it had successfully detonated a miniaturized hydrogen bomb, NATO said Wednesday the potential nuclear test undermines regional and international security. Jens Stoltenberg, secretary general of the 28-member military alliance, urged North Korea to abandon nuclear weapons, saying it breaches U.N. Security Council resolutions.
"The nuclear weapons test announced by North Korea undermines regional and international security, and is in clear breach of UN Security Council resolutions. I condemn the continued development by North Korea of nuclear weapons and ballistic missile programs and its inflammatory and threatening rhetoric," Stoltenberg said in the statement Wednesday. "I call on North Korea to fully respect its international obligations and commitments. North Korea should abandon nuclear weapons and existing nuclear and ballistic missile programs in a complete, verifiable and irreversible manner, and engage in credible and authentic talks on denuclearization."
Russia's Foreign Ministry said North Korea's claims of a fourth nuclear test had not yet been independently confirmed and called on "all interested sides to preserve maximum restraint and to not take actions that could rouse the uncontrolled growth of tensions in Northeast Asia," according to the Associated Press. The U.N. Security Council is slated to meet in New York at 11 a.m. EST Wednesday to discuss North Korea's claims.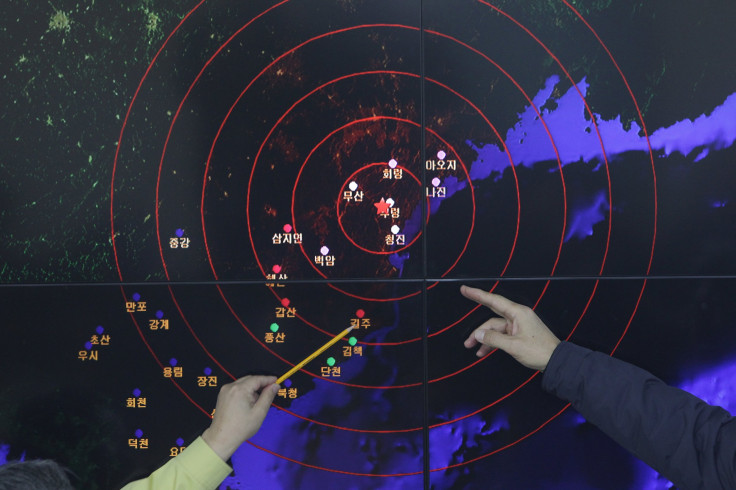 A magnitude 5.1 artificial earthquake was detected close to Punggye-ri, North Korea's only known nuclear test site. The United Nations confirmed it had detected "an unusual event in the Korean peninsula." An announcement on North Korea's state-owned TV station said the country had successfully tested a "miniaturized hydrogen bomb" underground Wednesday morning, calling it an "act of self-defense" against the United States.
South Korean lawmaker Lee Cheol Woo told reporters the country's spy agency believes the earthquake was more likely caused by an atomic bomb, according to NBC News. Some experts agreed that Pyongyang may not have tested a hydrogen bomb, given the relatively small seismic wave reported.
"Given the scale, it is hard to believe this is a real hydrogen bomb," Yang Uk, a senior research fellow at the Korea Defense and Security Forum, told Reuters. "They could have tested some middle-stage kind [of device] between an A-bomb and H-bomb, but unless they come up with any clear evidence, it is difficult to trust their claim."
© Copyright IBTimes 2022. All rights reserved.
FOLLOW MORE IBT NEWS ON THE BELOW CHANNELS