Did Prosecutor Robert McCulloch Uphold Justice In Ferguson?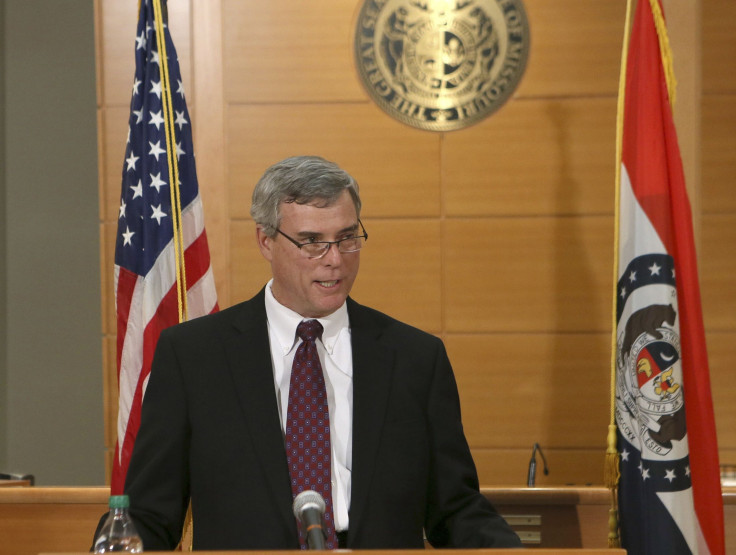 As St. Louis County Prosecuting Attorney Robert McCulloch spoke Monday night about a grand jury's decision not to indict Ferguson police officer Darren Wilson, many listeners who wanted an indictment were stunned by what they interpreted as him defending Wilson and explaining away the perceived injustice. To these observers, McCulloch came off as callous, smug and overly confident that Wilson not being charged in the shooting death of unarmed black teenager Michael Brown was the appropriate result. It was further evidence, critics said, that justice would not be served.
"The concern is the moral credibility of the criminal justice system," said Jody David Armour, a professor at the University of Southern California's Gould School of Law. She said the angry response that followed, with gunshots and looting spreading across Missouri, suggested McCulloch's approach helped erode protesters' faith in a system they already saw as rigged against them.
The nation waited with bated breath when McCulloch first emerged to announce the long-awaited grand jury decision Monday night. After a rambling preamble, he finally said there would be no state charges filed, predictably sparking outrage among protesters, activists and supporters of Brown who cite his death as a symbol of a racially skewed law enforcement system.
McCulloch also announced that most of the evidence and testimony presented to the grand jury would be released to the public. He went on to assign blame to "rumors," social media and news outlets for "challenge[s]" faced during the grand jury process, and embarked on a lengthy defense of the decision and the way it was reached.
"The statements of all witnesses -- civilian, law enforcement and experts -- were challenged of course by other law enforcement, by the prosecutors and by the grand jurors themselves," McCulloch said during his remarks. "Everything was given to the grand jury; it was all put in front of them. The 12 people made the decision that based upon all of that evidence, that as tragic as it is, it was not a crime, not one where charges should be filed."
Though he likely sought to offset the impact of the grand jury decision not to indict by explaining the evidence and other facts of the case in extensive detail, McCulloch instead came off as tone-deaf and self-promoting, some said.
"[He] prolonged his speech too much and tried to justify what happened after it happened. I think he could have simply come forward with simple phraseology instead of spending half an hour, 45 minutes, trying to justify what happened," said Barry Slotnick, a New York criminal defense attorney who is known for defending members of the Lubavitch Jewish community after the 1991 Crown Heights riots in New York as well as Bernie Goetz in the mid-1980s, who killed four people on a New York subway in self defense. "I think he could have done that instead of making himself a spectacle. I think he was concerned about the reaction of the community to the lack of an indictment ... I think he was concerned about where he goes from here, and I think he tried to justify what the grand jury did without taking any part of the blame. It should not have happened – his dealing with the issues the way he did."
Some critics of McCulloch's Monday remarks raised concerns about the unorthodox approach he took to the grand jury proceedings. Rather than presenting a case that obfuscated some of the details likely to weaken a case against Wilson -- such as inconsitencies in testimony or witnesses' unreliablity -- he said that he instead presented the grand jurors a full airing of the evidence that both sides of the bench would have brought to a trial.
"It disturbed me that instead of deciding whether or not there was enough evidence existing to support an indictment, the jury essentially conducted a full trial. That was not the charge of a grand jury, as I understood it," New York City Councilman Jumaane Williams, a Democrat outspoken on issues of civil rights who represents a black enclave of Brooklyn, said in a Tuesday statement. "Perhaps the call to examine this one case would be understandable if justice came more often, but we've seen these unjust acts in communities of more color for far too long."
But many legal experts and former prosecutors said that while McCulloch may not have spoken as deftly as he could have on Monday, the way he handled his role as prosecutor during the grand jury deliberations was actually admirable and in accordance with best prosecutorial practices and ethics.
One important point to remember is that a "prosecutor's job is not to secure an indictment, it's not to obtain a conviction, a prosecutor's job is to do justice, and that's what this district attorney attempted to do," according to New York criminal defense attorney Daniel A. Hochheiser, a former assistant district attorney in Bronx County. McCulloch's speech was a fair and successful attempt to present his thinking while providing evidence that supports the concept that justice was served, Hochheiser argued.
"He expressed sympathy for the Brown family, he methodically summarized the evidence that was considered by the grand jury in an attempt to explain the decision that was arrived at, and he told the public what the decision was," Hochheiser said. "And he went a step further, though he didn't have to, and disclosed most of the evidence that was reviewed by the grand jury. It's generally not done and it's not required. So I don't find any fault with the district attorney."
The evidence McCulloch presented to the grand jury was also a "win" for the integrity of the system, because he emphasized that unreliable evidence like eyewitness testimony was deemphasized in favor of physical evidence, according to Tina Lauterio, an attorney who serves as program director at the Center for Prosecutor Integrity, a Virginia organization focused on prosecutorial ethics.
"I've never seen a prosecutor release evidence like this. Prosecutors don't usually go into this much description; he was trying as best as possible to explain the process," Lauterio said. "It's unfortunate because he was actually trying to show that the system works and now there's even more backlash."
It is also unethical and a waste of resources for a prosecutor to press for an indictment in a case that could not be reasonably expected to result in a conviction, some experts argued. As such, though McCulloch was acting as prosecutor -- a position many casual observers wrongly perceive as aimed solely at pursuing a conviction -- he was right not to push for charges, according to Stanley L. Friedman, a criminal defense lawyer and former federal prosecutor.
"It's really the job of the prosecutor to only bring charges if he believes he can prove it beyond a reasonable doubt in court. It would be unfair to a defendant if there's enough evidence for probable cause but not for a conviction," said Friedman, who was an assistant U.S. attorney in Los Angeles while the office was prosecuting four LAPD officers on federal civil rights charges in connection with the beating of Rodney King. "That's very much part of the calculus -- can he make this case in court? But if he deems that he can't make the case, it's more just and more fair to make the decision now rather than delay and face a not guilty verdict in court."
© Copyright IBTimes 2023. All rights reserved.