Diego Maradona Recovery Complicated By Alcohol Withdrawal Symptoms
KEY POINTS
Diego Maradona is recovering from his surgery but with some complications
Maradona suffered episodes of confusion linked to withdrawal symptoms from alcohol dependency
Maradona will need further attention once he is allowed to leave the hospital
Diego Maradona is now recovering from recent surgery for a blood clot on the brain. Unfortunately, it appears that things have not been going smoothly, with the Argentine great requiring sedation to help him cope with alcohol withdrawal issues.
Alfredo Cahe, who was the football legend's personal doctor for 30 years, revealed that Maradona had to be sedated after experiencing "episodes of confusion" linked to withdrawal symptoms, Reuters reported. It appears the case of the 60-year-old is hard to manage, with Cahe pointing out other health issues.
"He has to have treatment to stop drinking alcohol, and all his family is in agreement that Diego as he is now is unmanageable. We need to take the bull by the horns," Cahe told Argentine TV channel TyC Sports.
"He has liver problems, cardiovascular problems," he continued. "It's not his brain on one hand, his liver on another, his stomach, it's a mix of things. We need to clean Diego up and then we'll see. He is still a complicated patient."
Based on the latest update on Maradona, Cahe suggested that they need to stabilize him and cover all bases. There is no telling how he will come out of this latest episode. But Maradona will need further attention and guidance once he is allowed to go home.
"What Diego's future is going to look like is a mystery, and it worries me. He can't go home like this," Cahe said.
Maradona had surgery Tuesday at the Olivos Hospital in Argentina to remove a subdural hematoma, an accumulation of blood between a membrane of his brain, ESPN reported. This was detected after an MRI on Monday.
According to Dr. Leopoldo Luque, a neurologist, this may have been a result of an accident. Maradona could not recall any.
Maradona is expected to remain in the hospital for several more days for post-op treatment. Aside from alcohol, the 60-year-old also dealt with drug addiction.
There were a lot of well-wishers who are rooting for Maradona when word got out that he needed surgery. One of them was UEFA president Aleksander Ceferin, who sent a message of encouragement to Maradona, ESPN said in another report.
"This is another match you have to win, another match you are going to win, because legends are eternal," Ceferin wrote. "From my heart, I hope this is only a minor setback. We are cheering for you!"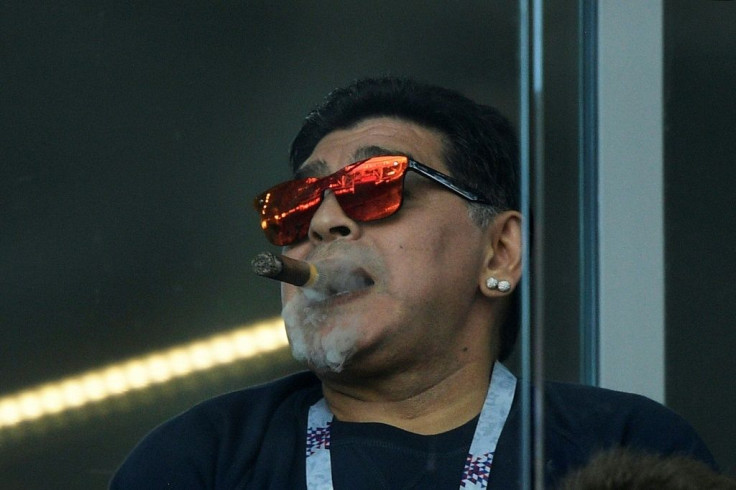 © Copyright IBTimes 2023. All rights reserved.
FOLLOW MORE IBT NEWS ON THE BELOW CHANNELS