Diego Maradona Doing Well After Brain Surgery, Personal Doctor Says
KEY POINTS
Maradona's recovery from brain surgery is off to a positive start
There is no definite date yet as to when Maradona will be discharged
Football world send well-wishes to the Argentine football great
Football legend Diego Maradona underwent a successful brain surgery and is now recovering at the Olivos clinic in Buenos Aires province.
According to Maradona's physician and neurosurgeon, the 60-year-old handled the procedure well and currently has a small drain used to remove the fluid that will be taken out soon.
Maradona's stay in the hospital will depend on how he progresses.
"Diego is under control. He has a small drain [to remove fluid] that we are planning to take out tomorrow. His stay at the hospital will depend on his evolution. But the start of his recovery was great. The way he reacted after the surgery is promising," Luque said in a report released by ESPN.
It was on Monday when Maradona was admitted to the Ipensa Clinic in La Plata due to anemia, dehydration, and depression.
An MRI performed on Tuesday showed that he had a subdural hematoma. Maradona turned 60 last Friday and was in attendance when Gimnasia y Esgrima de La Plata won over Patronato 3-0.
When word got out that Maradona needed to undergo surgery, various groups and personalities in the football world sent their support for the legend. That included former Bolivian President Evo Morales.
Morales got the Argentine's support during the coup d'etat that removed him from office at the end of 2019. Meanwhile, Tottenham, Newell's Old Boys, Napoli and Gimnasia also sent their best wishes before Maradona's surgery.
Maradona has dealt with numerous health issues in the past years. In 2004, he was hospitalized due to severe heart and respiratory problems which were tied to his battle with drug addiction.
He underwent gastric bypass surgery in 2005. Ten years later, the Argentine would have the same procedure again as he struggled with weight issues.
In 2019, he was hospitalized due to internal bleeding in the stomach. During the 2018 World Cup in Brazil, Maradona passed out during the Argentina vs. Nigeria clash.
Maradona is best known for leading Argentina to the 1986 World Cup. That put him in the books as one of the greatest players to ever grace the sport. He ended his playing career in 1997.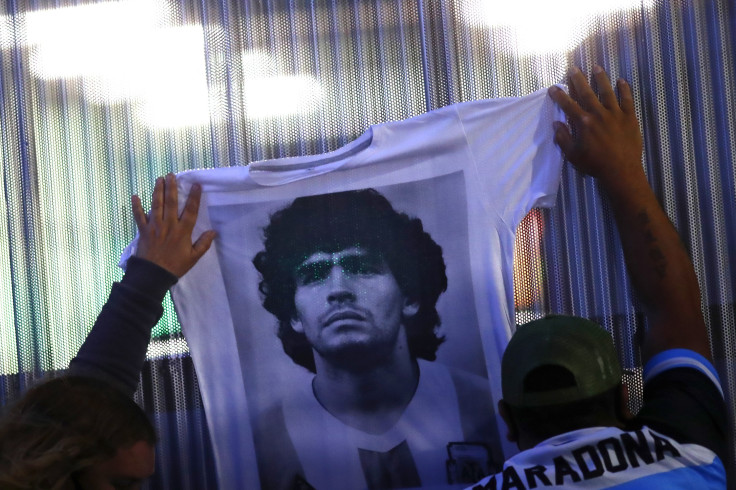 © Copyright IBTimes 2023. All rights reserved.