'Disappeared' Victims Of Mexico's Drug War Await Justice From New Administration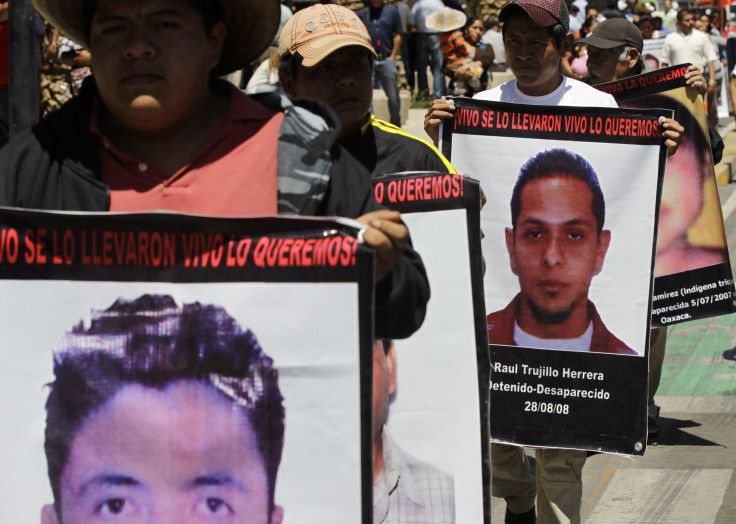 Along with the previous six years of unprecedented bloodshed from Mexico's drug war, President Enrique Peña Nieto has inherited a legacy of violence and corruption among Mexican security forces.
Human rights advocates are beginning to uncover evidence of widespread abuses against civilians committed by various entities within the military and law enforcement during the administration of former President Felipe Calderón.
The international advocacy group Human Rights Watch has documented in a new report nearly 150 unsolved cases of enforced disappearances since 2007, saying it found "compelling evidence of … the participation of state agents," including the army, navy, federal and local police.
"Throughout most of his presidency, Calderón denied security forces had committed any abuses, despite mounting evidence to the contrary," read a summary of HRW's report, titled "Mexico's Disappeared: The Enduring Cost of a Crisis Ignored."
"Only in his final year did he acknowledge that human rights violations had occurred, and take a handful of positive -- though very limited -- steps to curb some abusive practices," it continues. "However, he failed to fulfill his fundamental obligation to ensure that the egregious violations committed by members of the military and police were investigated and the perpetrators brought to justice."
Human Rights Watch also said that the responsibility to solve these cases has now fallen upon Peña Nieto's administration, which took office last December, adding that a failure to address this issue -- which it calls "the most severe crisis of enforced disappearances in Latin America in decades" -- will only perpetuate it.
"If the Peña Nieto administration repeats this mistake -- and fails to set out a comprehensive, effective plan to investigate past disappearances and help prevent them in the future -- cases of disappearances will almost certainly continue to mount," the reports reads. "And thousands of victims' families will continue to endure the agony of not knowing what happened to their loved ones."
Peña Nieto has pledged to reduce the escalating violence arising from Mexico's drug war that has claimed some 70,000 lives since 2006, when Calderón took office and deployed the armed forces at home in an intensification of the government's operations against the country's powerful drug trafficking organizations, commonly referred to as "cartels."
In its report, HRW says that along with the escalation in violence from the drug war, the number of cases of alleged abuse of civilians by Mexico's security forces has risen dramatically.
"The nearly 250 disappearances documented in the report do not represent all of the cases in Mexico since 2007," it says. "On the contrary, official statistics leave little doubt that there are thousands more. A provisional list compiled by the Federal Prosecutor's Office and the Interior Ministry of more than 25,000 people who were 'disappeared' or reported missing since 2006 was leaked to the media in November 2012."
Human Rights Watch says it was only able to confirm involvement of state security forces in 149 of the cases it investigated, though it suspects their involvement in many more -- still, overall, the powerful drug cartels are suspected of being behind a large number of these disappearances.
But in at least 60 of the cases it investigated, HRW found evidence of collaboration between state agents and criminal organizations to extort the families of those disappeared.
Its report added that arbitrary detentions of civilians by security forces are often involved in cases of disappearances.
"The majority of the likely enforced disappearance cases we documented follow a pattern," HRW noted. "Members of security forces arbitrarily detain individuals without arrest orders or probable cause."
"When victims' relatives inquire about detainees' whereabouts at the headquarters of security forces and public prosecutors' offices, they are told that the detentions never took place," it adds.
The rights group has urged the Mexican government to end this practice by mandating the immediate presentation of all detainees before a public prosecutor's office, which it said would help reduce disappearances.
To this end, it also has suggested the establishment of a national database for disappeared persons that would help investigators solve such cases.
In a bid to reduce violence related to the drug war, Peña Nieto announced that he aims to return Mexican troops to their barracks and establish a new national police force to secure areas controlled by the cartels and carry out targeted operations.
© Copyright IBTimes 2023. All rights reserved.
FOLLOW MORE IBT NEWS ON THE BELOW CHANNELS