Discrimination Against Gays OK If Based On 'Religious Belief': Jeb Bush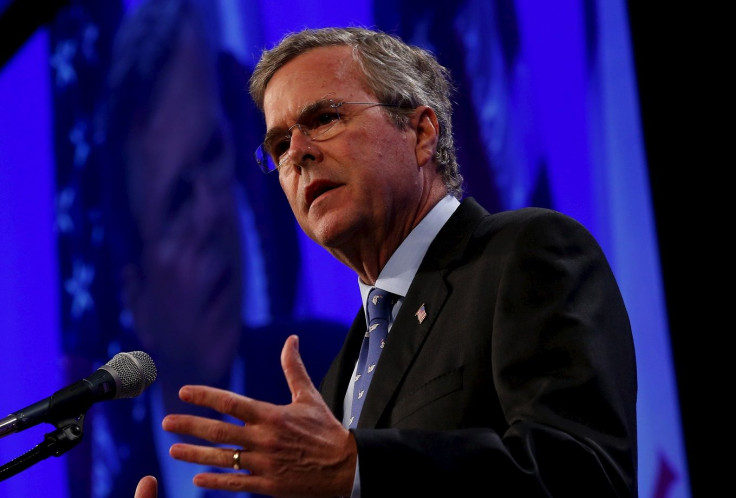 Jeb Bush, the former governor of Florida and likely 2016 Republican presidential candidate, has reiterated his stance against same-sex marriage, saying there is no constitutional protection for such. Speaking exclusively on "The Brody File" on Sunday, the 62-year-old politician said that, like conservative Christians who strongly oppose same-sex marriage, he is concerned about the issue. He told CBN host David Brody that marriage is a "sacrament." Without traditional marriage, he said, it's hard to imagine how people in the U.S. are going to succeed.
When asked if he believes there should be a constitutional right to gay marriages, Bush said no. "What's interesting is, four years ago, Barack Obama and Hillary Clinton had the same view that I just expressed to you. It's thousands of years of culture and history, just being changed at warp speed. It's hard to fathom why it is this way."
In the same interview, he also said businesses should "absolutely" be allowed to refuse to provide service for same-sex weddings if the discrimination is "based on a religious belief."
Bush's positions on the issue are not new. However, when gay couples were granted the right to wed in Florida in January, Bush said he would not challenge the court's ruling on the matter. He told the New York Times that "regardless of our disagreements," people should respect the law.
Bush hasn't formally entered the 2016 presidential race. After recently stumbling on a question about Iraq, Bush found himself hounded by his potential GOP rivals regarding the issue at the Iowa Republican Party fundraising dinner on Saturday.
Fox News' Megyn Kelly had asked if Bushwould have authorized the 2003 Iraq invasion knowing what the outcome would be. He answered yes. Upon arriving in Iowa, however, he admitted to the reporters that he answered the question incorrectly.
Contact the writer: a.lu@ibtimes.com.au.
© Copyright IBTimes 2022. All rights reserved.
FOLLOW MORE IBT NEWS ON THE BELOW CHANNELS