Disney Cancels Florida Campus In Fallout From DeSantis Row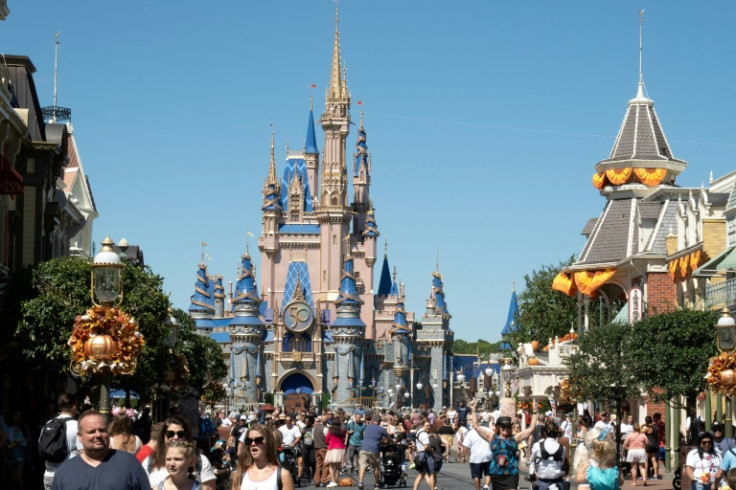 Disney canceled plans for a new employee campus in central Florida on Thursday in the latest ripple effect from its feud with Republican governor of the state Ron DeSantis.
The entertainment giant will not move forward with the Lake Nona project due to "considerable changes" since the original announcement, "including new leadership and changing business conditions," said a memo from parks chairman Josh D'Amaro.
The project, first announced in July 2021, was expected to relocate 2,000 jobs from California to Lake Nona, which is about 20 miles (30 kilometers) east of the huge Disney World complex in Orlando.
The staff was to have included workers in digital technology, finance and product development, with an average annual salary of $120,000, Orlando business groups said at the time of the announcement.
The project was estimated as an $864 million investment, according to earlier press reports.
But Disney has been embroiled in an increasingly pitched battle with DeSantis, who is reportedly planning to launch his bid for the Republican presidential nomination next week.
The origin of the fight has been Disney's criticism of a DeSantis-backed law banning school lessons on sexual orientation and gender identity.
In his challenge to former president Donald Trump, DeSantis has staked out far right positions on myriad hot-button issues, restricting children's access to certain books and blocking a new course on Black studies.
Jerry Demings, mayor of Orange County, which comprises the tourism site, said Disney's decision was "unfortunate," according to a statement.
"However, these are the consequences when there isn't an inclusive and collaborative work environment between the state of Florida and the business community," Demings said. "We will continue to work closely with our valued partners at Disney."
In February, DeSantis removed Disney's control of its special self-governing district, which allowed the city-sized park to run its own zoning and infrastructure projects, exempt from state regulations.
The Florida governor also floated the idea of building a new prison near the park, which is part of a sprawling tourism site employing 75,000 people and attracting 50 million visitors per year.
But Disney, which reinstated longtime leader Bob Iger as chief executive last November, has fought back.
In April, Disney sued DeSantis, characterizing the Florida governor's actions as a "targeted campaign of government retaliation" that violates the company's right to free speech.
Earlier this week, Disney asked a judge to throw out a lawsuit filed by a DeSantis-aligned oversight board.
Trump, for his part, has ridiculed DeSantis's fight with Disney, predicting in April in a social media post the company would stop investing new money in Florida or "even announce a slow withdrawal."
Disney's D'Amaro said in Thursday's memo that the company is "committed to our teams who call Central Florida home."
"We have plans to invest $17 billion and create 13,000 jobs over the next ten years," D'Amaro said. "I hope we're able to do so."
© Copyright AFP 2023. All rights reserved.