'Do Not Control My Mouth Because That Is A Gift From God,' Duterte To China's Xi
Philippine President Rodrigo Duterte made a vow to remain firm on the 2016 ruling by the United Nations Permanent Court of Arbitration (PCA) made in The Hague at the risk of angering Chinese President Xi Jinping.
Duterte was speaking to a group of members and guests of a solar power project inauguration in Romblom (a small island province located almost in the center of the archipelago). He is scheduled to meet with Xi during his fifth trip to China starting Aug. 28.
Duterte may be concerned that the Chinese president will not take him seriously and will try to prevent him from expressing his opinions on the matter. In this case the "David" has most of the global support while the "Goliath" is literally swimming in controversy by its aggressive behavior in the South China Sea against the Philippines and other coastal countries in the region.
Knowing that sentiment is on his side Duterte said, "The first thing I will bring up before [Xi Jinping] there is the arbitral ruling. If I'm not allowed as a president of a sovereign nation to talk whatever I want to talk about, then let us not rather talk altogether. No. Do not control my mouth because that is a gift from God." That statement will surely appeal to his largely Catholic country while Communist China, with a government that officially espouses state atheism, may not be so enamored with his divine blessing.
Duterte went on claiming he will deny Xi's directive not to bring up the PCA decision and that his desire is to resolve the controversy peacefully and avoid armed conflict. What will be discussed at the meetings remains to be seen but it is normal for Duterte to appear as braggadocious even against a powerful adversary like China.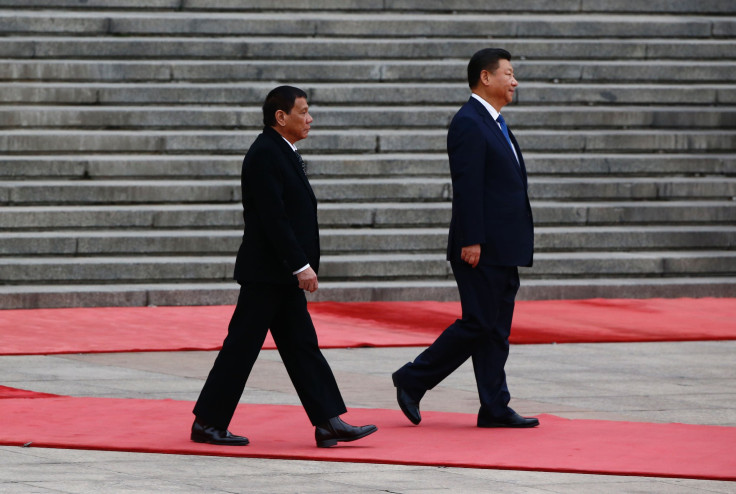 Aside from the issue of who "owns" the waters and the riches that lie below them, both countries have a desire to carry on exploration for oil and minerals and it makes sense to do it as a joint venture instead of separate adversarial ones. If that can happen then the problem is how to split the benefits of what Duterte calls "whatever there is in the bowels of the earth." He went on so say that a 60-40 proposed split favoring the Philippines would be a "good start" perhaps emulating the supposed deal making ability of U.S. President Donald Trump.
It is obvious that any armed conflict between the Chinese and Philippines would go the way of Beijing. But Duterte is right to say that he would not allow that China benefits from the resources in the disputed sea at the expense of the Philippines. If the talks in Beijing don't go Duterte's way, his next discussions may be in Washington, DC.
© Copyright IBTimes 2022. All rights reserved.
FOLLOW MORE IBT NEWS ON THE BELOW CHANNELS