Do Western Sanctions Really Hurt Zimbabwe's Economy? African Leaders Call For A Rethink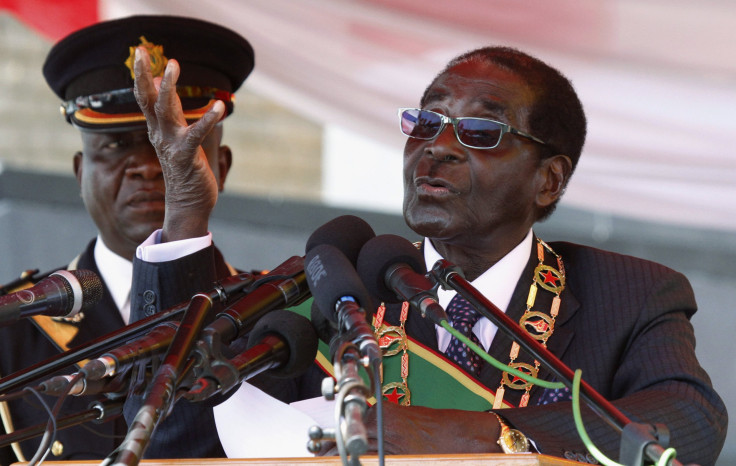 A group of southern African dignitaries has given its stamp of approval to Zimbabwe's recently re-elected President Robert Mugabe. At an annual summit on Sunday, an influential regional bloc called the Southern African Development Group, or SADC, appointed Mugabe its new deputy chairperson, commended him for a peaceful re-election and called for Western powers to reconsider their sanctions against his administration.
Mugabe will be re-inaugurated this week following his disputed July 31 electoral triumph. Zimbabwe has had no other leader since it gained independence from white rule in 1980; after 33 years in power, the president and his party, the Zimbabwe African National Union-Patriotic Front, or ZANU-PF, maintain strict control over the national economy, politics and media.
Mugabe claimed a high margin of victory over his longtime rival Morgan Tsvangirai, whose Movement for Democratic Change, or MDC, has participated in a unity government with ZANU-PF since the last national election in 2008. That poll also pitted Tsvangirai against Mugabe, but the proceedings erupted into violence after an early survey showed the MDC in the lead. More than two hundred people died, and the SADC stepped in to help broker the power-sharing agreement. Since then, Zimbabwe's economy has regained some stability after years of runaway inflation and upheaval. But Tsvangirai and other MDC members were often targeted by forces loyal to ZANU-PF; they have suffered political roadblocks, personal harassment and even violent attacks over the past five years.
July's election was peaceful, but opposition members hotly contested the results. Tsvangirai filed an electoral petition but withdrew it this week, explaining that a fair hearing would be unlikely. That leaves Mugabe to resume his post once again, and the SADC hopes that the election results will herald a re-evaluation of the West's approach to the ZANU-PF regime. "I believe Zimbabwe deserves better, Zimbabweans have suffered enough," said Malawian President Joyce Banda, the incoming chair of the SADC, according to AFP.
Zimbabwe's population of 13 million has indeed suffered. Poverty and unemployment are high, while infrastructure is sorely lacking. Diseases like HIV/AIDS, typhoid and malaria give the country an average life expectancy of 53-55 years -- among the world's lowest. The country is rich in minerals, but this has not been translated into sustainable economic growth nor prosperity for its people.
ZANU-PF officials point to Western sanctions as a major reason for these ills, but Westerners charge that corruption and mismanagement are to blame. Indeed, the outgoing Finance Minister Tendai Biti, who belongs to the MDC, told Al Jazeera in an interview last month that the ruling party was largely responsible for Zimbabwe's economic woes. "Let's take inflation - this is not caused by external intervention ... Economic management and mismanagement has everything to do with the self-induced policy distortions, and ZANU-PF is the [grandmaster] of self-induced policy madness and macro-economic insanity," he said.
The United States asserts on the website of its embassy in Zimbabwe's capital Harare that "U.S. sanctions are not blocking Zimbabwe's economic recovery," and that its policy specifically targets "individuals and entities that have undermined democratic processes or institutions in Zimbabwe."
American sanctions against Zimbabwe were first instituted in 2003. They came in response to disastrous fiscal mismanagement, most notably the land reform program that Mugabe began to implement with new zeal at the turn of the millennium. The program saw thousands of white farmers forced off their homesteads, often violently, which only exacerbated racial tensions and did nothing to spur development in a country where more than half the population still lives in poverty. These problems were only compounded over the years by skyrocketing inflation that imperiled the livelihoods of millions of people.
Then-President George W. Bush signed a presidential order listing 77 individuals who were prohibited from conducting business with American citizens, and whose assets abroad would be frozen or blocked by the United States. The list was expanded in 2005 to include 33 entities and 128 more people. But contrary to popular belief, the restrictions do not prohibit general trade or humanitarian assistance funding. Just last year, the United States was Zimbabwe's 11th largest trade partner with about $110 million in bilateral exchanges.
The European Union has had similar sanctions in place against Zimbabwe; assets of selected officials and institutions are frozen, but trade continues. The EU was Zimbabwe's third-largest trade partner last year, with $875 million in total exchanges. (Zimbabwe's top two trade partners are South Africa and China.) Hundreds of millions of dollars in aid money from all around the world -- led by the United States and the European Union -- is also still flowing into Zimbabwe, though funding has dropped in recent years due to the stabilization of the country's economy and recessions in donor countries.
But concerns about corruption and poor governance keep both aid and trade lower than what they could be -- and they have also impeded the flow of foreign direct investment. Zimbabwean authorities announced earlier this year that 2012 FDI amounted to $400 million, up from $387 million the year before. Despite this positive upward trend, those figures are quite small considering the country's dire need of funds. It doesn't help that Zimbabwe consistently ranks among the worst countries on earth in terms of transparency and ease of doing business.
Improvements in the Zimbabwean economy under the unity government have prompted some easing of restrictions; this year, shortly after Zimbabwe held a referendum and passed a new constitution limiting Mugabe's powers, the United States removed two Zimbabwean development banks, eight people and one farm from its sanction list. The European Union removed 81 people and eight other entities from its list. Decisions like these are meant to reward and encourage positive steps for growth; removing people and entities one by one gives the Western world an ongoing bit of leverage and influence in Harare.
For that reason, a full removal of sanctions isn't in the cards yet. Free and fair elections would be a necessary prerequisite for Western power players to bring all of Zimbabwe's officials and institutions back into the fold, but most observers maintain that this last round of voting was marred by irregularities.
For the time being, President Mugabe will continue to point to sanctions as the primary cause of Zimbabwe's economic woes -- in that way, sanctions give him a rhetorical edge that helps the aging leader curry favor with voters after 33 years of failed leadership. But even as SADC authorities call for an end to restrictive policies from the West, Zimbabwe will have to achieve new levels of domestic political and economic liberalization before global superpowers even begin to reconsider their approach.
© Copyright IBTimes 2023. All rights reserved.