Dodgers News: Justin Turner's Broken Wrist Likely Puts Him Out Till May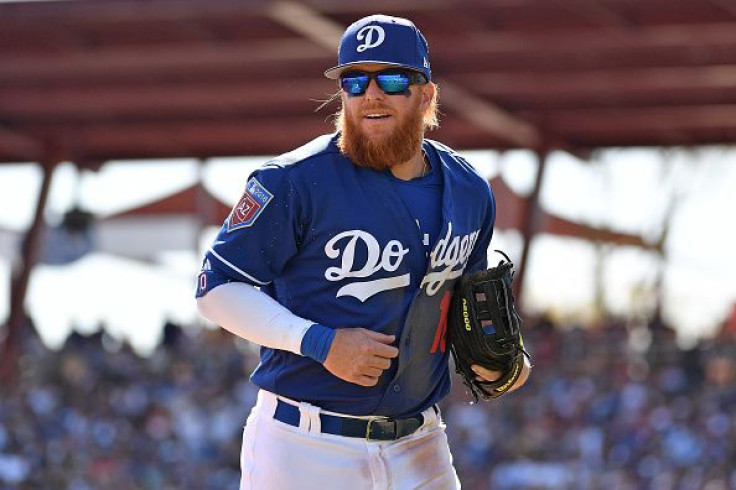 Los Angeles Dodgers third baseman Justin Turner is set to miss the start of the 2018 Major League Baseball (MLB) season after breaking his wrist on Monday during spring training.
The injury occurred in the first innings of the Dodgers' exhibition game against the Oakland Athletics when Turner, also the No. 3 hitter, was struck on his left hand by a pitch from Kendall Graveman.
After letting out a scream before walking towards his dugout, the 33-year-old eventually fell to the ground in pain before he was replaced by Donovan Solano and taken away to get X-rays. The Dodgers did not reveal the nature of the injury immediately.
However, according to Bill Shaikin of the Los Angeles Times, Turner suffered a broken wrist and is now unlikely to return to action before May, which comes as a big blow for the six-time World Series champions with Opening Day being nine days away.
Turner is one of the most important players for the Los Angeles side, having become one of the most feared hitters in recent years, batting .322 with 21 home runs last season en route to making the All-Star team for the first time in his career.
"We're not as good a team without J.T.," general manager Farhan Zaidi said, as per the Los Angeles Times. "It's going to create an opportunity for playing time for guys that maybe deserve more playing time than they were slated to get."
According to Shaikin, Turner will only know his timetable once he visits the doctor on Tuesday, noting that the likes of the Atlanta Braves' Freddie Freeman and Houston Astros' George Springer needed six and nine weeks respectively to recover from similar broken wrists. The Long Beach native though, is confident that the team will do just fine without him and will do everything to come back quickly.
"There's a lot of good baseball players in here," Turner was quoted as saying by Shaikin. "I don't think we'll miss a beat."
"It probably felt worse than any other one. It's part of the game. It's unfortunate. I'll do everything I can to get back as fast as I can. It's tough. It definitely wasn't what I wanted to hear," he added.
As of now, the likely replacement ahead of the start of the MLB season is Logan Forsythe, who other than Turner, played more games at third base last season than any Dodgers player.
With Forsythe currently playing at second base, Chase Utley is the favorite to take over from him in his position. In addition, the likes of the versatile Chris Taylor, Enrique Hernandez and backup catcher Kyle Farmer can all also play second and third base.
Other injury doubts for the Dodgers currently are with pitchers Tom Koehler, who suffered an anterior shoulder capsule sprain, and Julio Urias, who is recovering from a left shoulder surgery. The former is pain-free for all daily activities though it is unclear when he will be able to begin throwing again while the latter is still undergoing rehabilitation.
The MLB season will commence on March 29 and is scheduled to end on September 30 with the Postseason beginning on October 2 and the World Series beginning on October 23.
© Copyright IBTimes 2023. All rights reserved.