Dolphin Deaths Blamed On Measles-Like Virus That Killed 100s of Animals In 1980s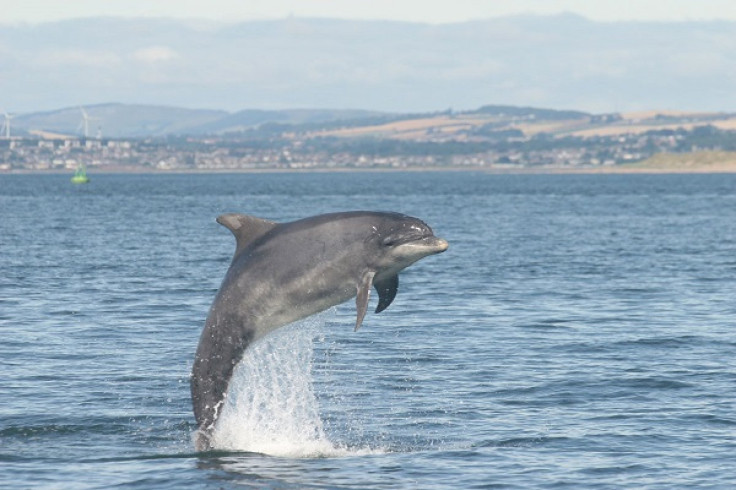 The recent rash of bottlenose dolphin deaths on the U.S. East Coast is most likely due to an outbreak of a viral infection that previously killed hundreds of dolphins in the late 1980s, according to wildlife officials.
Some 330 dolphins have stranded on beaches from New York to North Carolina since July 1 alone. Of those casualties, 291 washed up on coasts from New York to Virginia, where the average number of strandings for July and August is usually around 26. The National Oceanic and Atmospheric Administration declared the situation an "unusual mortality event" in early August.
Preliminary analyses indicate the culprit is cetacean morbillivirus, a virus related to measles and canine distemper, Terri Rowles, the coordinator for the marine mammal health and stranding response program at the NOAA's fisheries service, told reporters on a press call Monday. Genetic tests in more than 30 dolphins have turned up suspected or confirmed signs of cetacean morbillivirus.
Many of the stranded animals bore the characteristic lesions of the viral infection, which can leave marks on dolphins' skin, lungs, lymph nodes and brains. Further histological tests are being performed on the lesions themselves, looking for signs of morbillivirus, but those results will not be available for two to four weeks.
NOAA does not vaccinate wild dolphins, so the animals must rely on their natural immunity to fight off the infection. But, unfortunately, many of the younger dolphins in the East Coast population have limited to no immune defenses against cetacean morbillivirus, according to Rowles.
"We don't have a lot of insight as to when it will stop," Rowles said. "Typically, outbreaks last as long as there are susceptible animals that can be infected."
This is the most serious outbreak of morbillivirus on the U.S. East Coast since the epidemic that ran from June 1987 to May 1998 and claimed the lives of more than 740 dolphins. Once infected, a dolphin's immune system becomes weakened, so the stranded dolphins are often found riddled with other infections and illnesses. Rowles says that NOAA is prepared for the outbreak to follow a similar pattern, so dolphin deaths are likely to continue into spring 2014, and the infection will probably continue to spread southward.
One of the big remaining questions is where and how the outbreak started. Typically, a morbillivirus outbreak in animals starts when the virus is introduced to a new population by some other species. Scientists have traced morbillivirus epidemics among African lions to domestic dogs, for example. So it's possible that there may be a reservoir of the virus that's been hiding out in another marine mammal for years.
Cetacean morbillivirus has never been shown to pose a threat to humans. But there is a possibility that the virus may jump (or may have already jumped) to other species of dolphins and whales. Other species besides bottlenose dolphins have been stranding themselves in recent months, and NOAA is still gathering information on those incidents. The agency is also looking to see if any environmental factors may have contributed to the virus' spread.
© Copyright IBTimes 2023. All rights reserved.