Donald Trump Criticizes NBA Stalwarts While Addressing China Issue
The National Basketball Association (NBA) and China continue to be at loggerheads after Houston Rockets general manager Daryl Morey's tweet supporting Hong Kong's pro-democracy protests. The Chinese government and the corporates have not taken it too kindly and have hit back by canceling sponsorship with the NBA while CCTV – China's main broadcaster, has withdrawn from airing the pre-season games.
The Los Angeles Lakers and Brooklyn Nets are expected to play two games in Shanghai and Shenzhen but it is unclear if the games will go ahead in the face of the backlash. NBA commissioner Adam Silver refused to chastise Morey and supported his right to freedom of speech which has not gone down well in China.
President Donald Trump, however, took a different approach when asked about the situation between the NBA and China. He chose to chastise two NBA coaches – Steve Kerr and Gregg Popovich – two of his biggest critics for hesitating to voice their opinion on the situation. He labeled the former a "scared little boy" because they are willing to speak of the issues - gun control and police brutality - dogging their own country but are unwilling to speak about NBA's issues with China.
"I watch this guy Steve Kerr, and he was like a little boy," Trump said, as quoted on Yahoo Sports. "He was so scared to be even answering the question. He couldn't answer the question, he was shaking. He didn't know how to answer the question. He'll talk about the United States very badly."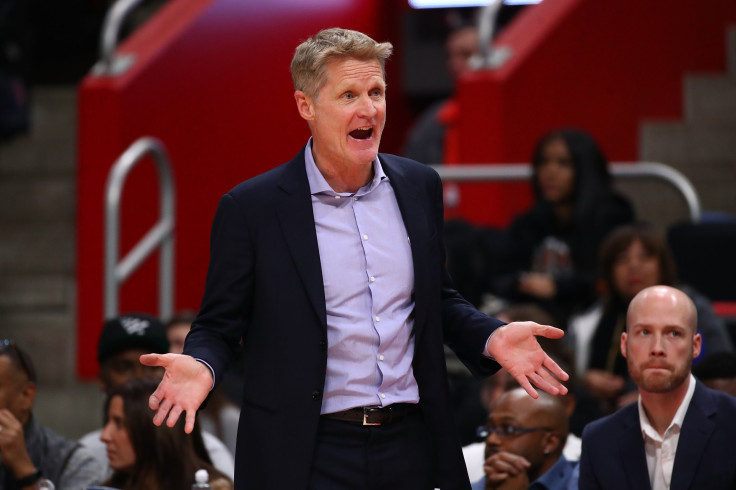 "I watched Popovich, sort of the same thing," Trump added talking about the San Antonio Spurs coach. "But he didn't look quite as scared, actually. But they talk badly about the United States. But when the talk's about China, they don't want to say anything bad. I thought it was pretty sad, actually."
Golden State Warriors point guard Stephen Curry, who has been a vocal critic of Trump, especially after the president withdrew the invitation for the team's visit to the White House after their NBA triumph in 2017 in the face of Curry's hesitation to follow past tradition. The two-time MVP jokingly welcomed Kerr to the club while also agreeing with his coach's decision to not make comments "off the cuff" about the issues between the NBA and China.
"I gotta welcome Steve to the club," Curry joked following Wednesday's practice, as quoted on NBC Sports Bay Area. "That's kind of par for the course there."
"It's weird, just cause I figured he'd have other things better to do with his time," Curry added talking about Trump's comments. "But those kind of conversations you hope are just productive and whatever the issue is or the narrative or whatever it is, hopefully, the majority reaction is people figuring out a solution to what we're talking about or having productive conversations beyond just words and 140 character tweets at people."
© Copyright IBTimes 2023. All rights reserved.