'Don't Mess With Syria'; Lebanon, Jordan Warned Against Flow Of Militants, Arms Across Border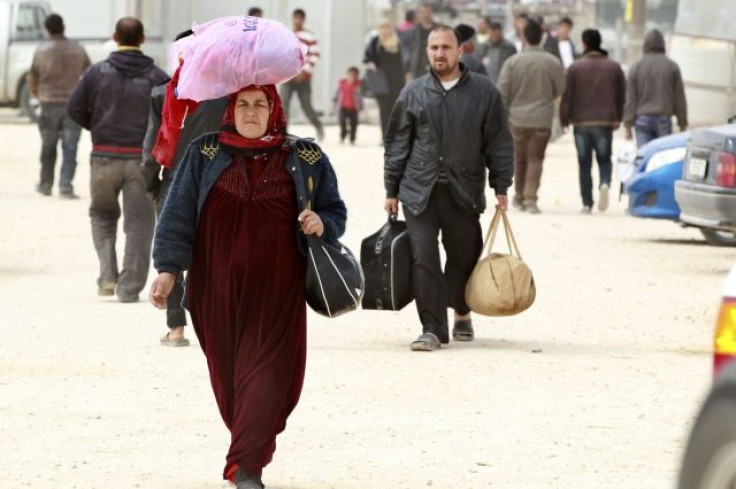 Lebanon and Jordan are treading a precarious path by allowing militant fundamentalists and arms to flow through their open borders with Syria, Syrian pro-government newspapers warned Sunday.
Hundreds of jihadists, equipped with light and medium machine guns, anti-tank and anti-aircraft weapons as well as four-wheel drive vehicles, have entered Syria from Jordan through the southern province of Daraa, while another 15,000 are set to head to Syria after finishing special training in Lebanon, Syria's pro-government Al-Watan newspaper said, as reported by the Xinhua news agency.
"Thus, Jordan has succumbed to the United States and Gulf States' pressure to become, like Lebanon and Turkey, a passage to the jihadists into Syria," the paper said.
An editorial Sunday by Syrian government newspaper Al-Thawra warned Jordan and Lebanon against ignoring the flow of Islamic militants and weapons from their territory, saying "the fire of terrorism will consume not only Syria, but could spread" across the borders.
"Jordan has opened its borders in recent days [allowing] passage of jihadists... whereas before it was satisfied with just facilitating the movement of elements trained on its territory by U.S. intelligence," Al-Thawra said, as reported by the AFP news agency.
"As for Lebanon, it is closing its eyes to the trafficking of weapons to Syria, led by elements that are not part of the government," the commentary said.
Last week, Syrian rebels claimed that hundreds of their fighters were being given sophisticated-weapons training organized and authorized by the U.S. at a camp in Jordan.
A senior rebel spokesman, who did not want to be named, told CNN that 300 fighters had already completed the training, which included the use of anti-tank and anti-aircraft weaponry, and crossed the border into Syria Thursday, a claim echoed by the Al-Watan report Sunday.
Responding to the Syrian rebels' claims, White House Press Secretary Jay Carney reiterated President Barack Obama's stance against providing lethal aid to the Syrian opposition.
"But we do provide assistance that has continually ramped up... and we're constantly reviewing our assistance programs to the Syrian people through humanitarian aid and to the Syrian opposition," Carney told CNN Friday.
Jordanian information minister and government spokesman Samih Maaytah said Sunday that his country "rejects interfering in Syrian affairs."
"The Jordanian army is exerting a lot of efforts to control the border and prevent infiltrations," he told AFP in Amman.
"The goal is to preserve Jordan's security and make sure there is no interference in Syrian affairs. Under this framework, there might be some military measures here or there, but nothing more."
"Jordan's position has always been clear. The kingdom's priority is to protect its own border, while at the same time preserve Syria's unity."
In October last year, the U.S. had sent troops to Jordan to assist the government in handling the flood of Syrian refugees besides bolstering its military capabilities and monitoring government weapons sites in Syria.
The 150-member team of mainly the U.S. Army special operations forces works jointly with Jordanian forces on operational planning and intelligence sharing, Reuters had reported, citing a senior U.S. defense official.
Another U.S. official, who spoke on the condition of anonymity, Reuters reported, said the military team was not engaged in covert operations and had been housed at the King Abdullah II Special Operations Training Center, north of Amman, which the New York Times reported was 35 miles from the Syrian border.
Jordan's official position on the conflict in Syria has evolved over the past two years, from initially supporting Syrian opposition's legitimate demands, to a neutral stance over concerns of jihadists with links to terrorist organizations including al Qaeda, taking over the uprising.
The Al-Nusrah Front, known as a powerful collaborator with the Free Syrian Army fighting against the Assad regime, is also an alias for al Qaeda in Syria and was blacklisted by the U.S. State Department late last year.
Al-Nusrah was responsible for nearly 600 attacks since November last year and has carried out more than 40 suicide attacks and improvised explosive device operations in major city centers including Damascus, Aleppo, Hamah, Dara, Homs, Idlib and Dayr Al-Zawr, the State Department had said.
Lebanon also stands divided in its approach to Syria. The presence of Shiite Syrian ally Hezbollah in South Lebanon strongly counters North Lebanon's anti-Syrian stance. Prime Minister Najib Mikati's cabinet is dominated by Hezbollah and its allies. However, the Lebanese government maintains a neutral official stance with regard to the Syrian crisis.
© Copyright IBTimes 2023. All rights reserved.
FOLLOW MORE IBT NEWS ON THE BELOW CHANNELS