Dow Jones Industrial Average Gains While Oil Prices Hover Around 6-Year Low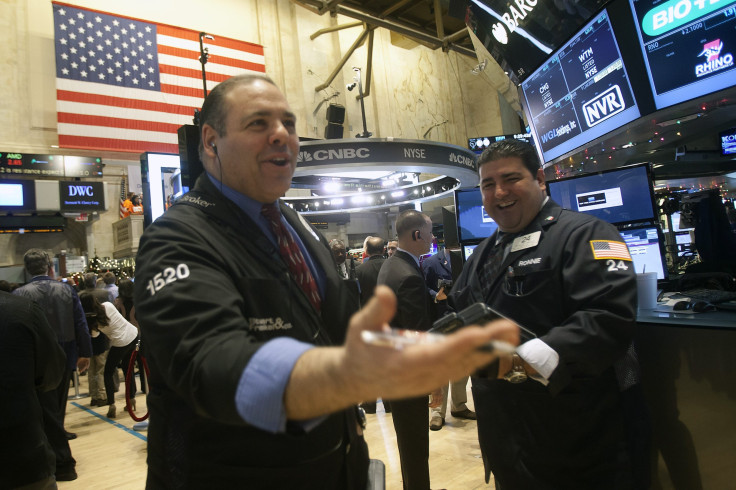 U.S. stocks edged higher Wednesday, with the Dow Jones Industrial Average climbing above the 18,000 milestone, as investors shrugged off mixed jobless claims data during the last day of trading for 2014. Meanwhile, Brent crude, the global benchmark for oil, hovered around a new low of $56 a barrel, heading for its largest annual decline since 2008, as oil inventories declined more than expected last week.
The Dow Jones Industrial Average, which measures the share prices of 30 large industrial companies, rose 35.77 points, or 0.20 percent, at 18,018.84; the S&P 500 stock index added 3.09 points, or 0.15 percent, at 2,083.40. The tech-heavy Nasdaq Composite gained 19.01 points, or 0.40 percent, at 4,796.45.
The Dow and S&P 500 futures wavered ahead of the market open after data Wednesday showed more Americans filed claims for jobless benefits than expected last week. Initial claims for jobless benefits rose 17,000, to 298,000, for the week ending Dec. 27, the Labor Department said Wednesday. The previous week's level was revised up by 1,000, from 280,000 to 281,000. Economists had expected claims to rise 10,000, to 290,000, according to analysts polled by Thomson Reuters. Meanwhile, the four-week moving average was 290,750, an increase of 250 from the previous week's revised average.
But despite the rise in jobless claims, economist expect the U.S. economy is entering the new year in better shape than previously thought and is likely to escape a serious downturn in 2015. "The outlook for the job market continues to brighten notwithstanding falling oil prices, which are likely to have an impact as the domestic oil industry sheds jobs," Peter Cardillo, chief market economist at Rockwell Global Capital, said in a note to investors Wednesday.
Separate data Wednesday showed the Chicago Purchasing Managers Index, a closely watched survey that tracks regional manufacturing activity, slowed to a five-month low this month. The index fell 2.5 points, to 58.3, in December as production, new orders and backlogs expanded at the slowest pace since July, the ISM-Chicago said Wednesday, an affiliate to the Institute of Supply Management. For 2014 as a whole, however, the barometer, which is used as a regional view of the national economy, put in the best performance in three years, averaging 60.8 compared with 56.1 in 2013 and 54.6 in 2012.
"It was a disappointing end to the year with the pulse rate of our business panel slowing noticeably in December. The trend, however, remains solid and consistent with continued growth in the U.S. economy," Philip Uglow, chief economist of MNI Indicators, said in the report.
The National Association of Realtors' pending home sales report, a leading indicator that measures housing contract activity, showed sales slightly improved in November and are above year-over-year levels for the third straight month. Pending home sales rose 0.8 percent, to 104.8, in November from a slightly downwardly revised 104.0 in October. The index is now 4.1 percent above November 2013, the highest year-over-year gain since August 2013.
"With rents now rising at a seven-year high, historically low rates and moderating price growth are likely to entice more buyers to enter the market in upcoming months," Lawrence Yun, chief economist at the National Association of Realtors, said in the report.
U.S. crude inventories dropped more than expected last week, as commercial inventories fell by 1.8 million barrels, to 385.5 million barrels, for the week ended Dec. 26, the U.S. Energy Information Administration said Wednesday. Global benchmark Brent crude dipped to a fresh five-year low, hovering around $56 a barrel Wednesday and falling 49 percent in 2014. Brent dropped 2.68 percent, to $56.35 a barrel, for Feb. 15 delivery, on the London ICE Futures Exchange. West Texas Intermediate crude, the benchmark for U.S. oil prices, dropped 2.31 percent Wednesday, to $52.87 per barrel, for Feb. 15 delivery, on the New York Mercantile Exchange. During the previous session, both Brent and U.S. crude hit their lowest levels since May 2009.
The U.S. stock market will be closed on Thursday for the New Year's holiday.
© Copyright IBTimes 2023. All rights reserved.