Dozens Of NFL Players Could Miss Week 15 Games On COVID-19 List
Several games on the NFL Week 15 schedule are going to be greatly impacted by COVID-19. A record number of players have tested positive for the virus, including some key stars who are likely to miss upcoming games.
The Cleveland Browns have had the league's worst COVID-19 outbreak ahead of Saturday's matchup with the Las Vegas Raiders. The team announced Wednesday that quarterback Baker Mayfield, cornerback Troy Hill and head coach Kevin Stefanski all tested positive. The news comes one day after Cleveland placed eight players on the COVID-19/reserve list.
Wide receiver Jarvis Landry, offensive guard Wyatt Teller, tight end Austin Hooper and left tackle Jedrick Wills Jr. all start for the Browns and are on the list. None of them can play against the Raiders unless they produce two negative tests 24 hours apart.
As part of the NFL's first Saturday schedule of the season, Cleveland has one less day to potentially get players off the COVID-19/reserve list. The contest has major playoff implications. The Browns are only out of the Week 15 playoff picture because of tiebreakers. The Raiders are a game out of the AFC's final wild-card spot.
The Los Angeles Rams have been hit almost as hard as the Browns. Odell Beckham Jr. was one of nine L.A. players added to the COVID list Tuesday. Defensive backs Terrell Burgess and JuJu Hughes, as well as tight end Brycen Hopkins and offensive tackle Alaric Jackson are in danger of missing Sunday's game against the Seattle Seahawks. Star cornerback Jalen Ramsey went on the list shortly before the Rams defeated the Arizona Cardinals Monday night.
Kansas City Chiefs defensive tackle Chris Jones is on the COVID-19 list. Jones almost certainly won't play in Thursday's game against the Los Angeles Chargers. Kansas City is one game ahead of Los Angeles, and Thursday's result might ultimately determine the AFC West championship.
On Tuesday, seven teams went under the NFL's advanced protocols because of positive tests. The Atlanta Falcons, Detroit Lions, Minnesota Vikings, Washington Football Team and Chicago Bears joined the Rams and Browns in taking additional precautions.
Seventy-five NFL players tested positive for COVID-19 Monday and Tuesday. From Sept. 5 through Nov. 27, 110 players had tested positive.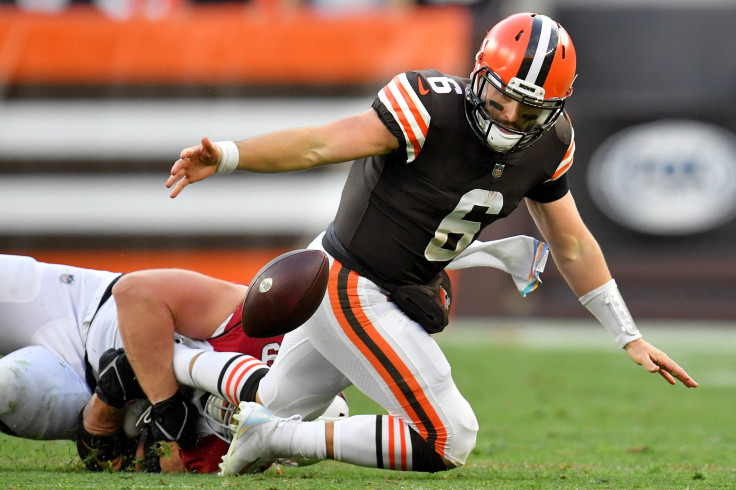 © Copyright IBTimes 2023. All rights reserved.