Dozens Of Pilot Whales Stranded On Indonesia Beach, Several Feared Dead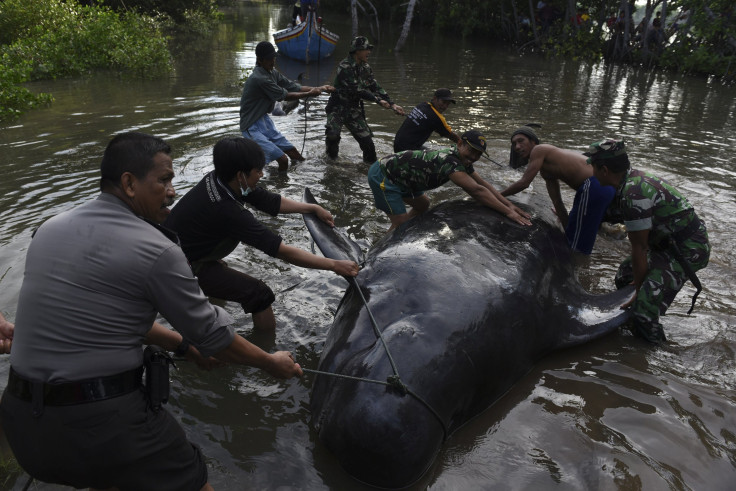 Over 30 whales were stranded on a beach in Java, Indonesia an official said Thursday. At least eight of those are reportedly feared dead.
The whales are most likely short-finned pilot whales that live in tropical and subtropical waters. At least 32 of them came ashore during high tide early Wednesday in Probolinggo, East Java province, Agence France-Presse (AFP) reported.
"At first there were just one or two whales swimming near the shore, and the nature of whales is that if they are sick they will come near the shore," a spokesman for the local maritime and fisheries office told AFP. "But whales have such high social interaction – when one fell ill, they approached the sick one to swim back to sea... When the tide fell, all of them were trapped."
A mass rescue operation involving hundreds of fishermen and local officials managed to pull most of the stranded whales into deep sea. Rescuers used tarps to wrap around the stranded whales and pull them out to sea while swimmers dove into the water to drive others out of the area.
The number of whales feared dead is unclear with some reports saying at least eight whales have died while others reporting numbers as high as 15.
The provincial Conservation and Natural Resources Agency will be conducting autopsies on the dead whales to find out why they washed ashore, the Associated Press reported.
Local fishery officials told AFP that the whales may have been stranded due to turbulent waters in the Indian Ocean or because they consumed something poisonous.
© Copyright IBTimes 2023. All rights reserved.