Duke Basketball 2017: March Madness Prediction, Final Four Chances, Possible NCAA Tournament Opponents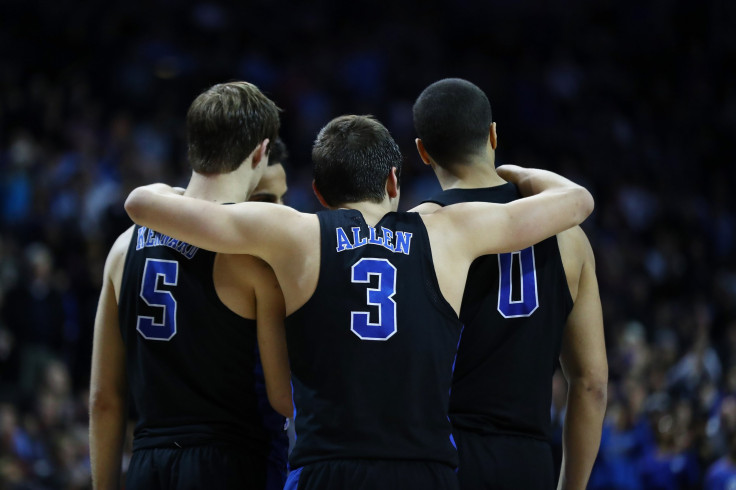 Duke is almost always among the favorites in the NCAA Tournament, and this year is no different. They enter March Madness 2017 with a better chance than just about any team to win the national championship.
Only North Carolina has slightly better betting odds to cut down the nets on April 3, and plenty of experts have included the Blue Devils in their Final Four predictions. It's one of the most talented teams Mike Krzyzewski has ever coached, and they entered the Big Dance on a hot streak after winning the ACC Championship.
Duke's talent, however, hasn't always translated to success this season. In fact, the Blue Devils are coming off one of their worst regular seasons of the last few years. Duke's eight losses prior to the ACC Tournament were their second-most in a decade, putting them at fifth in the ACC standings. It's why the Blue Devils are only the No.2 seed in the East region after winning the ACC Tournament.
With the highs and lows that Duke has experienced this season, it will be interesting to see how they perform in the 2017 NCAA Tournament.
Path to the Final Four
The Blue Devils shouldn't have any trouble in the first round against No.15 Troy, who is nearly a 20-point underdog. A matchup against No.10 Marquette or No.7 South Carolina awaits Duke in the Round of 32 Sunday. Marquette has an elite offense, while South Carolina made it to the tournament with one of the nation's best defenses.
In the Sweet 16, Duke would face Baylor if seeds hold. The Bears finished second in the Big 12, but they haven't looked like a No.3 seed in recent weeks, losing six of their last 11 games. No.11 USC or No.6 SMU could face Duke by pulling off upsets, and No.14 New Mexico State is a longshot to be Duke's third March Madness opponent.
A run to the Final Four would likely include a matchup with Villanova, who is the tournament's top overall seed. The Wildcats have come back even stronger after winning the national championship, led by Josh Hart's 18.7 points per game and 40.8 percent shooting from three-point range. The Wildcats have just three losses by a combined 18 points, and they'll be a tough out for any team in March Madness.
No.8 Wisconsin, No.5 Virginia and No.4 Florida are hoping to upset Villanova before the regional final. Duke beat Virginia by 10 points in their one matchup this season, and they would be favored against the Badgers or Gators.
Why Duke could succeed
It's not hard to see why Duke was voted the No.1 team in the preseason AP Top 25, receiving 58 of a possible 65 first-place votes. Even though top recruit Harry Giles hasn't lived up to expectations, the Blue Devils are still loaded.
Jayson Tatum has emerged as arguably the best freshman in college basketball, and he appears well on his way to being a top-five pick in the NBA draft. Averaging 16.9 points and 7.3 rebounds per game, the forward continues to get better with each game. He averaged 22 points per game on 55.3 percent shooting in the ACC Tournament, and he might be primed to have a memorable NCAA Tournament run.
The freshman wasn't even close to being the team's best player in the 2016-2017 season. That designation belongs to Luke Kennard, who was the only unanimous selection to this year's All-ACC first team. The sophomore guard led the conference with 20.1 points per game, shooting 49.9 percent from the field.
With the team's third-best player being Grayson Allen, who averaged 24.6 points per game last March, Duke has more ways to win than any team in the country.
Why Duke could fail
Despite all their talent, the Blue Devils have one glaring weakness. They are not a good defensive team by any means, and that could be their undoing in the NCAA Tournament.
Not every national title contender plays elite defense, but most are at least respectable. The same can't exactly be said for Duke, who ranks 96th in defensive efficiency, putting them 40th among all tournament teams. The Blue Devils have given up at least 77 points in seven of their eight losses, and they can be upset if their offense is struggling.
The Blue Devils could have an especially difficult time against teams like Villanova and Marquette, who put up a lot of points. Only three teams score more points per possession than Villanova, while the Golden Eagles have scored more than 90 points in three of their last five games.
NCAA Tournament Prediction
Despite their flaws, it's difficult to pick against Duke in March Madness. With three consecutive wins over top-20 opponents, the Blue Devils appear to be peaking at the perfect time. They won the championship for the nation's best conference, defeating their biggest competition (North Carolina) along the away.
When Krzyzewski has an elite group of players, Duke is extremely tough to beat. That appears to be the case in 2017, and it could mean a third national championship for the Blue Devils in the last eight years.
© Copyright IBTimes 2023. All rights reserved.