East China Sea Dispute: Japan Releases Footage Showing Chinese Vessels Approaching Senkaku Islands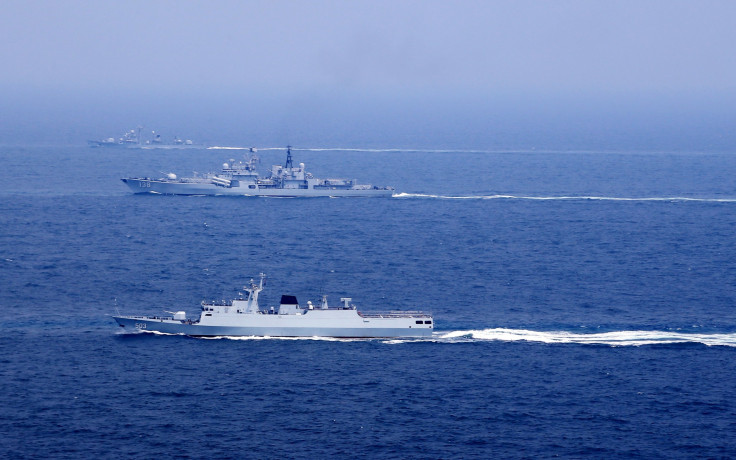 Japan's coast guard released a video showing Chinese vessels entering disputed Senkaku islands in the East China Sea as tensions in the region continued, the Japan Times reported Tuesday. The uninhabited islands are administered by Japan and are also claimed by China, which calls it Diaoyu islands.
The breaches allegedly took place between Aug. 5 and Aug. 9. when about 300 Chinese fishing boats along with 28 government ships were seen approaching the Senkakus. The four-minute long video posted on Japanese coast guard's website Monday showed some of the 28 intrusions Japan claimed were made by Chinese coast guard ships and 72 fishing boats, according to the Japan Times.
Later in the video, 1,500-ton Japanese patrol vessel Aguni approaches a Chinese coast guard ship and fishing boat and warns the ships to disperse.
"Your ship has intruded into the territorial waters of our country," the message in Japanese reads. "Non-innocent passage in the Japanese waters is not allowed. Get out of this area immediately."
In June, Japan summoned the Chinese ambassador in Tokyo after a Chinese ship sailed near the Senkakus. At the time, Japan's Vice Foreign Minister Akitaka Saiki told China's Cheng Yonghua that the islands are natural part of the Japanese territory with regard to history and international law.
The Senkakus hold importance over their proximity to main shipping lanes and potential oil and gas reserves and sizeable rich fishing grounds. The world's second-largest economy has warned Tokyo in the past against any provocative action over the islands.
The Senkakus are also claimed by Taiwan, where it is known as Tiaoyutai islands.
© Copyright IBTimes 2023. All rights reserved.