Eastern Orthodox, Anglican Spiritual Leaders Join Pope Francis Climate Change Appeal In New York Times Op-Ed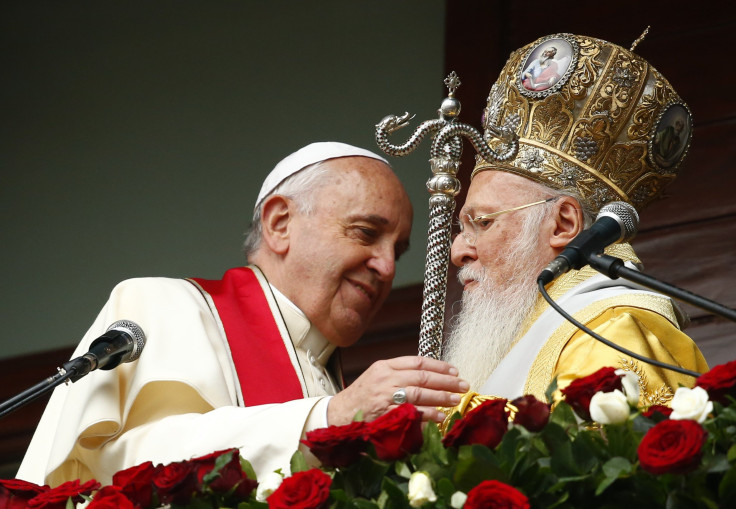 Religious leaders of different traditions are voicing their support for Pope Francis' climate change stance following the release of the pontiff's highly-anticipated environmental encyclical this week. On Friday, the spiritual heads of the Eastern Orthodox and Anglican churches jointly published an op-ed in the New York Times to argue that taking action on climate change was a moral responsibility, the latest sign that the issue is becoming an increasingly important one for many faith communities.
"Because of our faith in God as creator, redeemer and sustainer, we have a mission to protect nature as well as human beings," wrote Orthodox Patriarch Bartholomew I of Constantinople and Justin Welby, archbishop of Canterbury and head of the Anglican Communion. "This is a shared moral responsibility and urgent requirement. Civil society, governmental authorities and religious leaders have an opportunity to make a difference in a way that bridges our diverse opinions and nationalities."
This is not the first time that either leader has raised the subject as a matter for religious discussion. Bartholomew, who is leader to 300 million Orthodox Christians around the world, has been a long-time supporter of expanding environmental protections to stop climate change, releasing his own encyclical on the subject in 2006. And, despite coming from an oil industry background, Welby, who heads a worldwide community of 77 million Anglicans, has also made moves to distance his church from investments that have been criticized for supporting environmental degradation.
The leaders' joint statement solidifies their individual stances into a united front on the issue that also reinforces one of the key features of Francis' encyclical, namely the importance of an approach to tackling climate change that includes multiple denominations of Christianity.
The pontiff has made a point of emphasizing that the audience for his text is not limited to the flock of Catholic faithful, but extends to everyone living on Earth, in hopes that broader action could be taken to address the issue. "This encyclical is aimed at everyone," he said during his weekly blessing at St. Peter's Square Sunday. "Let us pray that everyone can receive its message and grow in responsibility toward the common home that God has given us."
In the days leading up to and since the encyclical's release, faith leaders of different religions have publicly embraced this call. The leader of Germany's Lutheran Church, Heinrich Bedford-Strohm lauded the pope's message for "reaching across the different theological traditions."
"Christian churches around the globe are united in our fight against the destruction of nature," he said.
Francis' appeal has also been heralded by non-Christian faith leaders. Prominent U.S. Rabbi Arthur Waskow, one of the Jewish leaders responsible for the "Rabbinic Letter on the Climate Crisis" signed by more than 300 rabbis last month, wrote an editorial in the Jewish Daily Forward ahead of the encyclical's release supporting Francis' call to action. Rabbis were compelled to make the move because of the important chance to press for action presented by the upcoming United Nations climate change conference in Paris, Waskow said.
"The success or failure of that conference can make an enormous difference to the future of the human race and to the whole web of life upon our planet," he wrote. "Can we prevent worldwide climate-spawned disasters? Can we turn our science and our moral wisdom toward shaping a world of shared, sustainable abundance — eco-social justice? If past governmental behavior is any indication, the governments will probably get stuck in Paris — unless we, the peoples, insist on action."
Imam of the Islamic Society of North America Mohamed Magid similarly urged Muslims to heed the pope's call. "People of all faiths can come together for this cause because the concept of stewardship on Earth is a shared belief," he said in a statement to Time magazine. "Appreciating the blessings bestowed upon us by our Creator is a value that we all take great care to respect."
Some have even urged the pope to take a more formal leadership position to corral religious support for climate change action. Rajan Zed, the president of the Universal Society of Hinduism asked Francis to organize a global environmental summit involving all religions, in a statement reported by Crux.
The value of this broad-based religious engagement in promoting global action on climate change was highlighted by Bartholomew, who argued that it was a "true blessing" to be able to share "a common concern and a common vision for God's creation," in a commentary for Time published Thursday. "The truth is that, above any doctrinal differences that may characterize the various Christian confessions and beyond any religious disagreements that may separate the various faith communities, the earth unites us in a unique and extraordinary manner."
© Copyright IBTimes 2022. All rights reserved.
FOLLOW MORE IBT NEWS ON THE BELOW CHANNELS