Ebola Economic Toll: US Liberians Send Money Abroad To Families Devastated By Outbreak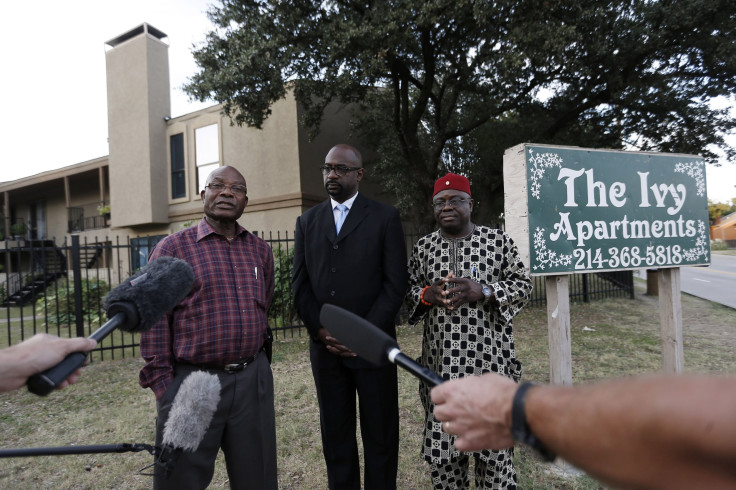 Liberia is 4,652 miles from New York, but for Liberian-Americans living in Staten Island, it might as well be down the street. Many people in the community are keeping connected with family and friends in Liberia, where the Ebola outbreak has claimed more than 2,400 lives and devastated the country's fragile economy. That often puts the burden of supporting loved ones abroad on the shoulders of U.S. Liberians.
"My cousins who cannot go out in the street to sell water definitely are calling me on a daily basis, [saying,] 'Oh uncle Telee, how am I going to make it? I don't have food,'" Telee Brown, who has lived in Staten Island for 15 years, told Marketplace. Brown said he has to sacrifice a little every day to support family members in Liberia. "If I maybe ate three times a day, I have to save on a meal and eat two times a day," he said. He also visits less frequently an outdoor market that sells traditional West African food.
Of the three African countries hit the hardest by Ebola, Liberia has the largest representation in the U.S., with 65,000 Liberian-Americans in the country. Liberia is one of the top recipients of remittances -- money sent by foreign workers to individuals in their home country -- in the world. In 2011, Liberians living abroad flooded $378 million into Liberia, a full one-third of the country's gross domestic product, according to the World Bank. The economic toll of the Ebola outbreak in Liberia makes that money increasingly crucial to families of foreign workers. Community leaders in the U.S. are taking steps to funnel individual contributions into things like medical supplies and food that can be shipped abroad to areas in Liberia that are under quarantine.
The Ebola epidemic does not just affect the livelihoods of people living near the center of the outbreak. Liberians living in the U.S. often find themselves at the receiving end of "Ebolaphobia" -- hostility from Americans who believe that, because they are or look like they are from West Africa -- they pose a threat of spreading the virus in the U.S. "We're fighting Ebola on two fronts: the disease in Africa and stigmatization as Africans here in America, even as we're losing family members back at home," Togba Croyee Porte, who lives in Staten Island's "Little Liberia," told the Wall Street Journal. The New York City borough is home to one of the largest Liberian populations in the U.S., according to the U.S. Census Bureau.
Community leaders say the death of Thomas Eric Duncan, a Liberian national who died in the U.S. after he contracted the virus in Liberia, has had a ripple effect on the Liberian population here. "Instead of being seen as a person, you are seen as a carrier of a virus," Alexander Collins, executive director of the Liberian Ministers Association of Minnesota, which oversees some 50 churches, told the Journal.
Liberians from New York to Minnesota say some of their children are teased at school and employees have been told not to come into work. In Texas, a community college has begun rejecting applicants from Ebola-affected countries, including students from Nigeria, where the Ebola epidemic has essentially been halted.
Economists have estimated the economic fallout from the ongoing Ebola outbreak to be in the tens of billions of dollars. Nigeria, Africa's largest economy, has already seen a 20 percent to 40 percent decline in commercial demand, the World Bank has shown. The organization said the dip was likely due to "initial shock, fear and uncertainty following the appearance of Ebola in Lagos and Port Harcourt."
© Copyright IBTimes 2023. All rights reserved.