Ebola Outbreak Update: Only Five Cases Left In Liberia, Report Says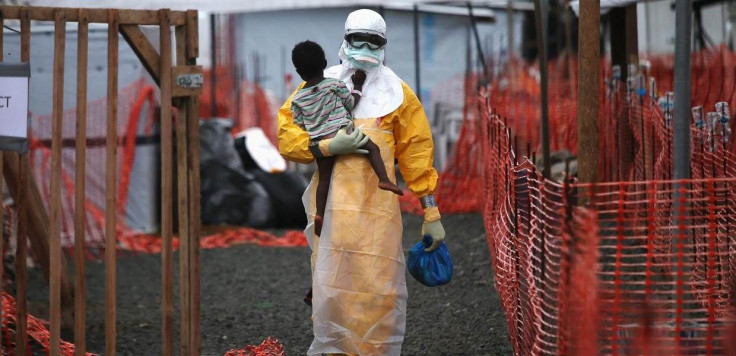 Just five confirmed cases of Ebola virus disease remain in Liberia, a West African country that has seen more than 3,600 deaths from the outbreak of the deadly virus, Reuters quoted a senior health official as saying Friday. "It means that we are going down to zero, if everything goes well, if other people don't get sick in other places," said Deputy Health Minister Tolbert Nyenswah, who leads Liberia's Ebola task force.
Three of the remaining cases were in the capital city of Monrovia, and the other two were in Bomi and Grand Cape Mount counties. Liberia could be rid of the virus by the end of February, Nyenswah said.
It's a monumental turning point in the Ebola crisis since the height of the outbreak, when Liberia had 500 reported infections per week. Hospitals were filled to capacity with victims and had to turn away new patients. There are now days when no new cases are reported there at all, BBC News reported.
Guinea and Sierra Leone, the other two countries most affected by Ebola, have also seen falling infection rates. As of last week, cases in Guinea dipped to 20 per week from a peak of 292 and cases in Sierra Leone dropped to 117 per week from a peak of 748, according to BBC News.
"The incidence is pretty clearly going down in all three countries now. Each of the last three weeks has been the most promising we've seen so far, the message is reductions in all places," Dr. Christopher Dye, the director of strategy in the office of the director-general at the World Health Organization, or WHO, told BBC News. "I would have identified the turning point as the beginning of the decline, first in Liberia and then later in Sierra Leone and Guinea."
The current Ebola outbreak has killed at least 8,600 people -- a body count that makes this the worst recorded outbreak since the disease was first identified in 1976, according to studies by the U.S. Centers for Disease Control and Prevention in conjunction with WHO. The recent sharp decrease in the number of cases is partly due to a tremendous global response and a massive public-awareness campaign. Health officials said early detection is key.
"Ebola was spreading undetected for three months in Guinea," WHO Director-General Margaret Chan said Thursday. "The first case happened in December 2013, and it was not detected until March 2014."
© Copyright IBTimes 2023. All rights reserved.